CNN Guest: How Can Hillary Be Outraged by 'Trump Tapes' if She Idolizes Beyoncé?
Jim Watson, Kevin Mazur/Getty Images
Since the tape containing Donald Trump's lewd comments to then-"Access Hollywood" host Billy Bush leaked on Friday, Americans have been scrambling either to defend the Republican nominee or to distance themselves from him.
His Democrat opponent, Hillary Clinton, called him out at Sunday evening's debate, saying that he owed Americans an apology:
On Tuesday, however, Trump supporter and former New York Lieutenant Governor Betsy McCaughey stopped in to talk with Don Lemon on CNN.
She claimed that Clinton's outrage over Trump's leaked comments outlined her own hypocrisy — citing Clinton's praise for singer Beyoncé...
"Hillary Clinton expresses that she finds the language on that bus horrific, but in fact she likes language like this, quote, 'I came to slay b——, when he 'F' me good I take his a— to Red Lobster,' that happens to be line from Beyoncé, her favorite performer, whom she says she idolizes and says she would like to imitate."
McCaughey does not reference a specific comment from Clinton naming Beyoncé as a favorite artist, but may be referring to this exchange from "The Ellen DeGeneres Show" four months ago: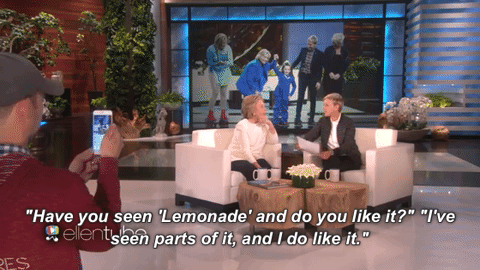 During that same show, Clinton told DeGeneres that she'd choose Beyoncé as her running mate because she believes in "making lemonade out of lemons."
This is apparently acceptable behavior for a running mate:
"He trying to roll me up, I ain't picking up

Headed to the club, I ain't thinking 'bout you

Me and my ladies sip my D'ussé cup

I don't give a f**k, chucking my deuces up

Suck on my balls, pause, I had enough

I ain't thinking 'bout you."
And this:
However, Don Lemon quickly jumped in with the point that Beyoncé was "not running for President," and many on social media joined him in attacking McCaughey's claims as "ridiculous":
But others point out that Hillary Clinton is running for President. And by supporting Beyoncé, they say that Clinton is suggesting that she is an acceptable role model for young girls.
She even bragged about receiving the singer's endorsement last year:
Others suggested that Beyoncé was singing about sex with her husband, while Trump was bragging about propositioning married women:
But Beyoncé sang about infidelity, too — and in terms just as lewd as anything heard on the "Trump tapes":
"Who the f**k do you think I is?

You ain't married to no average bitch boy

You can watch my fat ass twist boy

As I bounce to the next d**k boy

And keep your money, I got my own."
Of course, as the above tweet mentions, Trump's tape is not only being criticized for being sexually graphic, but for containing remarks that some people believe excuse sexual assault.
The same cannot be said about Beyoncé.
In any event, McCaughey wasn't the only one to draw a connection between the lewdness that is rampant in pop culture and the comments made by Donald Trump.
Christian blogger Doug Wilson noted that the decline in public discourse is a reflection of the culture we embrace: "Did we really think we could outlaw decency, and yet somehow still have decency? Did we really believe we could blow a hole in the hull of decent discourse and still have the ship stay on the surface?"
Despite that, Clinton is not the only one to cheer Beyoncé. The president and first lady are also fans, and President Obama even noted in 2012 that "Beyoncé could not be a better role model" for his girls.