News
'Spitting, Uncontrollable Rage': 2024 Dem Hopeful Accused by Staff of Abuse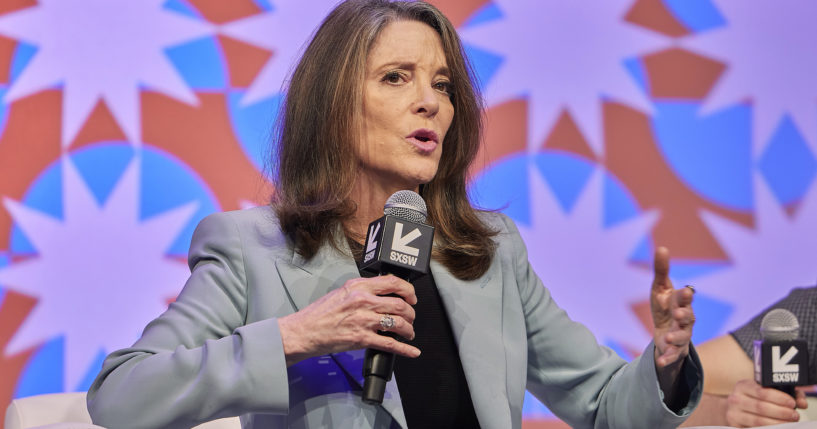 Marianne Williamson, a 2024 Democratic presidential hopeful, is being accused of mistreating her 2020 campaign staff.
Politico reported on interviews conducted with 12 individuals who worked for Williamson in 2020.
"It would be foaming, spitting, uncontrollable rage," a former staffer told the outlet.
Advertisement - story continues below
The staffer added, "It was traumatic. And the experience, in the end, was terrifying."
Three of the former staffers claimed Williamson would throw her phone at them.
According to Politico, "Her outbursts could be so loud that two former aides recounted at least four occasions when hotel staff knocked on her door to check on the situation."
It is reported that, in one situation, Williamson grew so angry "about the logistics of a campaign trip to South Carolina that she felt was poorly planned that she pounded a car door until her hand started to swell," citing four former staffers.
Advertisement - story continues below
They said Williamson had to go to an urgent care facility.
Politico noted all 12 former staffers interviewed remembered situations during which Williamson would "scream at people until they started to cry."
Do you think she has a chance to win in 2024?
Paul Hodes, a former congressman who also served as Williamson's 2020 New Hampshire state director, explained, "Those reports of Ms. Williamson's behavior are consistent with my observations, consistent with contemporaneous discussions I had about her conduct with staff members, and entirely consistent with my own personal experience with her behavior on multiple occasions."
Williamson penned an email to Politico addressing the allegations.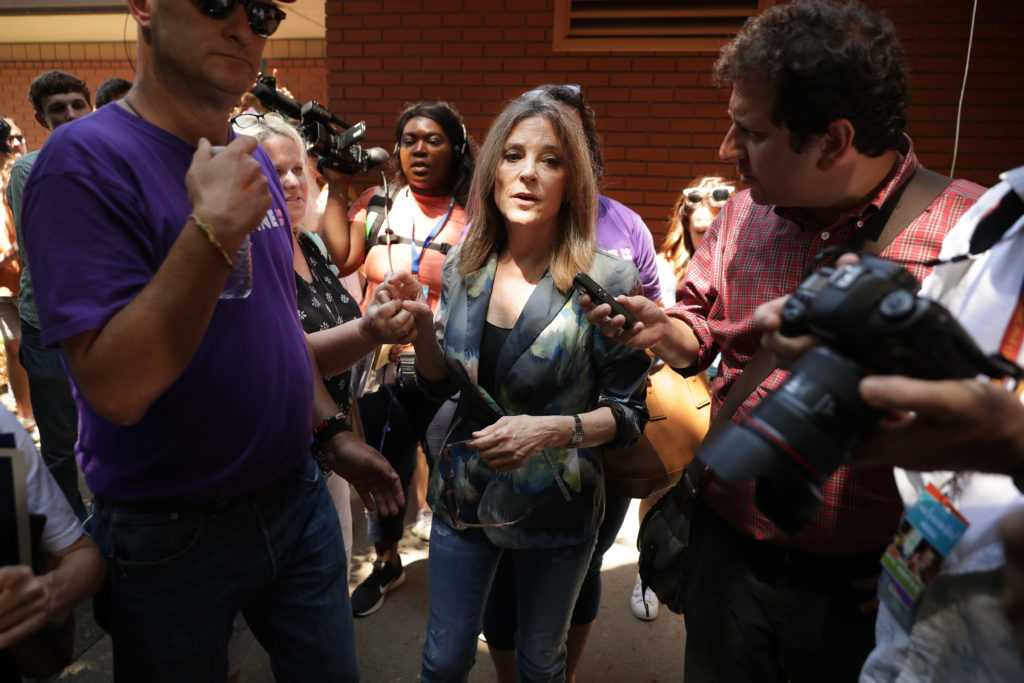 Advertisement - story continues below
"Former staffers trying to score points with the political establishment by smearing me might be good for their careers, but the intention is to deflect attention from the important issues facing the American people," she said.
Williamson added, "This Presidential Campaign expects concerted efforts to dismiss and denigrate us. But the amplification of outright lies should not occur."
Additionally, she refuted the claim that she threw her phone at the staffers, per Politico.
However, Williamson did say she visited the urgent care facility after hitting her hand on a car door.
Advertisement - story continues below
She added that a "car door is not a person. I would never be physically hurtful to a person."
The presidential hopeful also admitted here was an instance when she raised her voice in a hotel room.
"I find it hard to believe that people in politics have never raised their voice before," Williamson said.
The outlet reported the former aides declared Williamson's behavior difficult to predict.
Advertisement - story continues below
The report continued, "She berated staffers for seemingly inconsequential things, like if they booked a hotel room that had a walk-in shower and not a bathtub," citing the staffers.
According to former aides, Williamson would "tell her staff to cancel an event, only to change her mind a day later and accuse them of trying to undermine her campaign. She obsessed over the physical appearance of others and ridiculed staffers for being overweight," as Politico reported.
Still, Williamson claimed she has not "mocked anyone for their weight."
A second former staffer said Williamson "would get caught in these vicious emotional loops where she would yell and scream hysterically."
Advertisement - story continues below
The staffer added, "This was day after day after day. It wasn't that she was having a bad day or moment. It was just boom, boom, boom — and often for no legitimate reason."
It was noted that Williamson went through two campaign managers, several state directors, field organizers and volunteers throughout her candidacy.
Robert Becker, the campaign's then-Iowa state director, said in a 2019 email to Williamson her behavior toward staff was "belittling, abusive, dehumanizing and unacceptable."
In her response, Williamson said, "I did go out on a limb for you, but more importantly I had no idea that you would've seen me that way… Hopefully I will learn from what you have said, and hopefully you will not say such things to others."
Advertisement - story continues below
Campaign staff reportedly held conversations about speaking to Williamson about searching for help to address her behavior.
"Her perspective on the pharmaceutical industry, those points of views informed her personal actions and not getting medication and help that she needed," the second former aide told Politico.
Earlier this month, Williamson announced another presidential run at Union Station in Washington, D.C.
Truth and Accuracy
We are committed to truth and accuracy in all of our journalism. Read our editorial standards.
Comment Down Below
Conversation