News
8 Senate Dems Vote to Kill Biden's Travel Mask Mandate – 1 Republican Voted Against It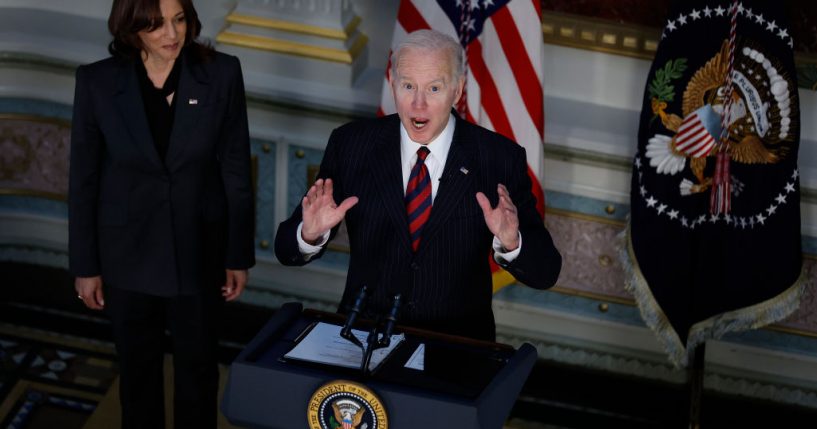 A measure aimed at ending President Joe Biden's mask mandate for public transportation received bipartisan support in the Senate.
The chamber voted 57-40 on Tuesday to end the mandate.
Eight Democrats crossed party lines to back the measure, including Sens. Michael Bennet (Colo.), Catherine Cortez-Masto (Nev.), Maggie Hassan (N.H.), Mark Kelly (Ariz.), Joe Manchin (W.Va.), Jacky Rosen (Nev.), Jon Tester (Mont.), and Kyrsten Sinema (Ariz.)
Advertisement - story continues below
Bennet, Hassan, Cortez-Masto, and Kelly are all up for reelection in 2022. And Manchin, Rosen, Tester, and Sinema are up for reelection in 2024.
So half of the eight Democrats who voted to repeal the mask mandate for public transportation face re-election in 2022, and the other half face re-election in 2024.

— Sahil Kapur (@sahilkapur) March 15, 2022
Every Republican except for Sen. Mitt Romney (R-Utah) voted for the measure.
Even if the measure passed the House, it would likely fail as Biden has said he would veto it, and it did not receive the two-thirds support that would be needed to override a veto in the Senate.
Advertisement - story continues below
The vote comes roughly a week after the administration announced it would extend the mask mandate for public transportation, which applies to air travel, trains, and buses, for another 30 days.
An administration official told CNN that during the extension of the mandate, "CDC will work with government agencies to help inform a revised policy framework for when, and under what circumstances, masks should be required in the public transportation corridor."
"This revised framework will be based on the Covid-19 community levels, risk of new variants, national data, and the latest science. We will communicate any updates publicly if and/or when they change," the official added.
CNN noted, "The CDC may ultimately allow the mandate to lift before the 30-day period is up if transmission rates of the virus nationwide drop to low enough levels."
On Thursday, the Centers for Disease Control and Prevention (CDC) announced that 98% of the country's population was in an area with low or medium transmission of the virus.
Truth and Accuracy
We are committed to truth and accuracy in all of our journalism. Read our editorial standards.
Comment Down Below
Conversation