News
Jim Acosta Claims Virginia Has Become a 'Soviet-Style Police State' Under GOP Governor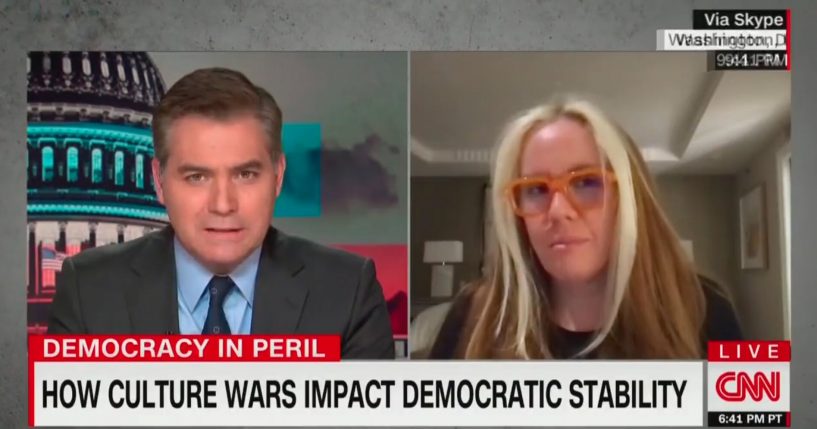 CNN's Jim Acosta is blasting Virginia Gov. Glenn Youngkin (R) for setting up a tip line for parents to send in complaints about "divisive practices" in schools.
On Tuesday night, Acosta said, "I seem to remember Glenn Youngkin campaigning in a fleece vest in Virginia. He was running as a different kind of Republican."
"I was told there was going to be a vest, not a Soviet-style police state across the Potomac from Washington," he added.
Advertisement - story continues below
Youngkin was known for wearing a fleece vest during the 2021 gubernatorial campaign.
Watch the video below:
Jim Acosta thinks that Virginia has become "a Soviet-style police state" pic.twitter.com/UmgFTyRIgR

— Townhall.com (@townhallcom) January 26, 2022
During a recent interview with conservative radio host John Fredericks, Youngkin said the tip line is for "parents to send us any instances where they feel that their fundamental rights are being violated, where their children are not being respected, where there are inherently divisive practices in their schools."
Advertisement - story continues below
"We're asking for folks to send us reports and observations that they have that will help us be aware of things like privilege bingo, be aware of their child being denied their rights that parents have in Virginia. And we're going to make sure we catalog it all," he added.
Youngkin's comments referred to a controversial "privilege bingo" assignment in a Fairfax County public school where students were supposed to identify their "privilege."
As NBC News 4 notes, "The assignment in a high school English class came with boxes for characteristics such as being white, Christian, male and able-bodied to identify whether the taker was considered privileged. There was also a box for being a military kid."
Some interpreted the "divisive practices" as referring to the teaching of critical race theory. On his first day in office, Youngkin issued an executive order banning the teaching of the theory in schools.
Randi Weingarten, the head of the American Federation of Teachers (AFT), has previously denied that critical race theory was being taught in schools. She described the theory as "a method of examination taught in law school and college that helps analyze whether systemic racism exists — and, in particular, whether it has an effect on law and public policy."
Advertisement - story continues below
As Politico notes, conservatives' criticism of the theory "centers on the belief that white students are being told that they are oppressors because of their race. In turn, history lessons about the founding of the nation that adopt some of the tenets of critical race theory promote discrimination against white students and depict students of color as victims."
In response to Youngkin's tip line, Loudoun County NAACP President Michelle Thomas urged Black parents to send in complaints about "our history being silenced."
Truth and Accuracy
We are committed to truth and accuracy in all of our journalism. Read our editorial standards.
Comment Down Below
Conversation