News
Activists With Anti-War Group Interrupt Event With Dem Rep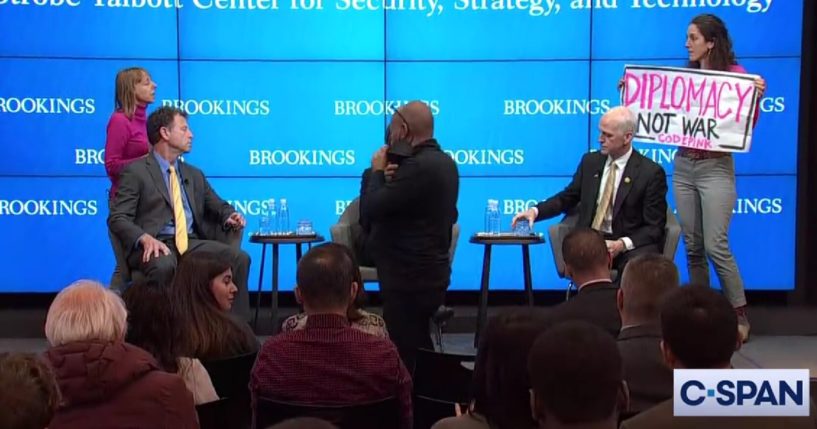 An event with Rep. Adam Smith (D-Wa.) was interrupted by a group of anti-war activists.
Code Pink co-founder Medea Benjamin and organizer Olivia DiNucci crashed the event held at the Brookings Institute on Wednesday.
DiNucci proceeded to hold up a sign that stated: "Diplomacy, Not War."
Advertisement - story continues below
Benjamin then explained, "The way both the Democrats and Republicans have been pushing us in this war in Ukraine, where we definitely condemn Russia, but we need negotiations."
She added, "If we keep pouring billions and billions of dollars into this war, we're taking us to the brink of nuclear war."
Benjamin asked the crowd to raise their hands if they would like to see negotiations.
Smith attempted to speak but Benjamin continued.
Advertisement - story continues below
"I just want to end my point here, which is to say, that it's a shame that 30 Democrats who signed a letter to Biden calling for negotiations were so pillorying by people like you," Benjamin said as she pointed to Smith.
Smith replied, "I didn't pillory them at all."
Would you like to see negotiations?
Watch the video below:
Activists with @CodePink disrupt a Brooking Institute Defense Policy event with Rep. Adam Smith (D-WA) of the House Armed Services Committee.pic.twitter.com/sbzqFfvpaD

— MintPress News (@MintPressNews) January 11, 2023
Benjamin went on, "The Democrats have to get back on board of calling for negotiations and not leave that to the extreme right of the Republican Party, like Marjorie Taylor Greene. They shouldn't be the ones with the rational voice in all of this calling for negotiations."
Advertisement - story continues below
Individuals entered the room and removed DiNucci from the stage as she said, "Security is addressing the climate crisis, getting people housed and not focusing on weapons… $880 billion dollars going to war."
According to the group's website, Code Pink is a "feminist grassroots organization working to end U.S. warfare and imperialism, support peace and human rights initiatives, and redirect resources into healthcare, education, green jobs and other life-affirming* programs."
Last week, the Biden administration announced a new $3 billion package of military assistance would be sent to Ukraine and would include Bradley Fighting Vehicles.
"The Bradley Fighting Vehicles are very significant in terms of being able to do what we call combined arms maneuver warfare," John Kirby, strategic communications coordinator for the National Security Council, said.
Truth and Accuracy
We are committed to truth and accuracy in all of our journalism. Read our editorial standards.
Comment Down Below
Conversation