News
Actress Jennifer Lawrence Talks About Being at War With Her Conservative Family Over Politics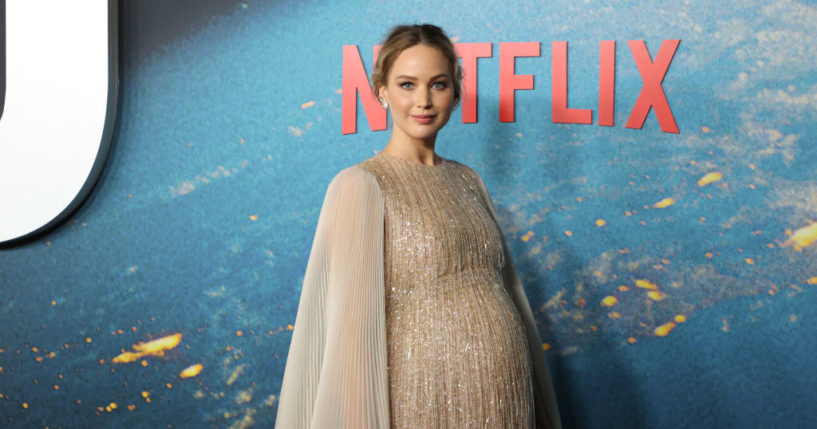 Actress Jennifer Lawrence opened up about her feud with her conservative family members.
During an interview with Vogue, Lawrence shared how the 2016 election caused a rift in her family.
According to Lawrence, she has also spoken with her therapist about nightmares she has involving Fox News host Tucker Carlson.
Advertisement - story continues below
"I just worked so hard in the last five years to forgive my dad and my family and try to understand: It's different. The information they are getting is different. Their life is different," Lawrence said.
She continued, "I've tried to get over it and I really can't. I can't. I'm sorry I'm just unleashing, but I can't f**k with people who aren't political anymore. You live in the United States of America. You have to be political. It's too dire. Politics are killing people."
Commenting on America's decision to elect former President Donald Trump, Lawrence told the publication, "It breaks my heart because America had the choice between a woman and a dangerous, dangerous jar of mayonnaise. And they were like, Well, we can't have a woman. Let's go with the jar of mayonnaise."
Going on about her family and Supreme Court justices, Lawrence explained, "I don't want to disparage my family, but I know that a lot of people are in a similar position with their families. How could you raise a daughter from birth and believe that she doesn't deserve equality? How?"
Advertisement - story continues below
Additionally, Lawrence spoke to Vogue about her pregnancy and two miscarriages she suffered prior to that.
"I remember a million times thinking about it while I was pregnant. Thinking about the things that were happening to my body. And I had a great pregnancy. I had a very fortunate pregnancy. But every single second of my life was different. And it would occur to me sometimes: What if I was forced to do this?" Lawrence said.
The actress did not stop there.
She went on to comment on the issue of school shootings.
"I'm raising a little boy who is going to go to school one day. Guns are the number-one cause of death for children in the United States. And people are still voting for politicians who receive money from the NRA. It blows my mind. I mean if Sandy Hook didn't change anything?" Lawrence said.
Advertisement - story continues below
She continued, "We as a nation just went, Okay! We are allowing our children to lay down their lives for our right to a second amendment that was written over 200 years ago."
When asked if there is still communication with her relatives about politics, Lawrence told Vogue, "I broach the subject in the sense that I unleash text messages. Just: Boom. Boom. Boom. Boom. Boom. They don't respond. And then I'll feel bad and send a picture of the baby."
Having a baby cracked Jennifer Lawrence's world wide open. "My heart has stretched to a capacity that I didn't know about." And her new film, Causeway, is a highly personal story, three years in the making. But what's really on Lawrence's mind is politics. https://t.co/GKVVl2yn5E pic.twitter.com/ABbitIzDPa

— Vogue Magazine (@voguemagazine) September 6, 2022
Lawrence gave birth to her child in February with her husband, art gallerist Cooke Maroney.
Advertisement - story continues below
Lawrence spoke on the Naked with Catt Sadler podcast about meeting Maroney in 2018, per People.
"I definitely wasn't at a place where I was like, 'I'm ready to get married,' " Lawrence said.
She added, "I just met Cooke and I wanted to marry him. We wanted to marry each other, we wanted to commit fully."
Truth and Accuracy
We are committed to truth and accuracy in all of our journalism. Read our editorial standards.
Comment Down Below
Conversation