Push Pelosi and Schumer Out? AOC Says Dems 'Need New Leadership'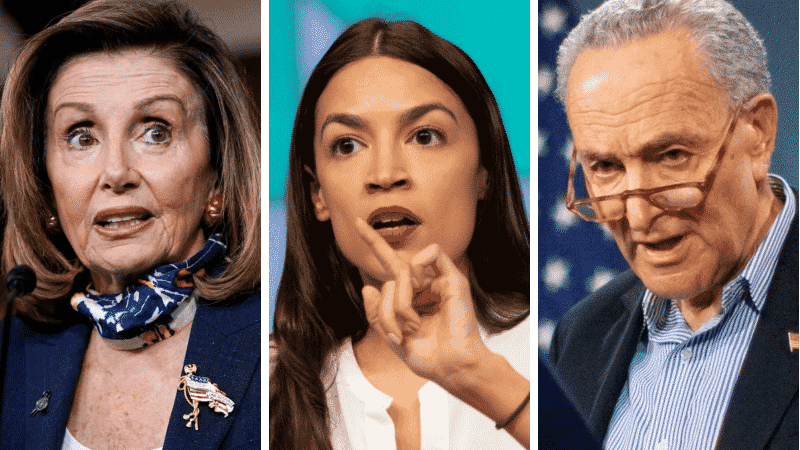 Rep. Alexandria Ocasio-Cortez (D-N.Y.) is weighing in on Democratic leadership in Congress.
While touching on negotiations going on Congress regarding a COVID-19 relief package, Ocasio-Cortez told The Intercept during a podcast, "On one hand it's very easy to say Mitch McConnell and the Republican Party is extraordinarily barbaric, which is true."
When asked later if it is "grounds" to "take a stand and say, No, I'm sorry Nancy Pelosi should not be the speaker and Chuck Schumer should not be the leader," Ocasio-Cortez said it is time for House Speaker Nancy Pelosi (D-Calif.) and Senate Minority Leader Chuck Schumer (D-N.Y.) to go.
"I do think that we need new leadership in the Democratic Party," she said.
Ocasio-Cortez added that there is a struggle with "the internal dynamics of the House" that "has made it such that there's very little option for succession."
The New York lawmaker then added, "The House is extraordinarily complex and I'm not ready. It can't be me. I know that I couldn't do that job."
Listen to Ocasio-Cortez's interview below:
Asked again, "Are you ready to say, Pelosi and Schumer need to go?" Ocasio-Cortez responded, "I think so," adding, "If you create that vacuum, there are so many nefarious forces at play to fill that vacuum with something even worse… There are folks more conservative than even they are ready to fill that void."
Pelosi is expected to be reelected as the speaker of the House in the new Congress, as she is running unopposed.
She has since been pressed on if she will hold to the pledge that this will be her last term as speaker, to which she told reporters, "Let me just say that when that conversation took place, there was a move to put limits on the leadership and the chairs of committees… What I said then was, whether it passes or not, I will abide by those limits that are there."
Pelosi also said, "Listen, if my husband is listening, don't make me have to be more specific than that because we never expected to have another term now. I consider this a gift."
President-elect Joe Biden congratulated Pelosi in a phone call after the news that she would be reelected. He expressed "that he looks forward to working with her and Democratic leadership in the House on a shared agenda to get COVID-19 under control and build our economy back better," a statement from his office reads.