FaithTap
Baby Born Prematurely Comes Home After 50-50 Chance of Survival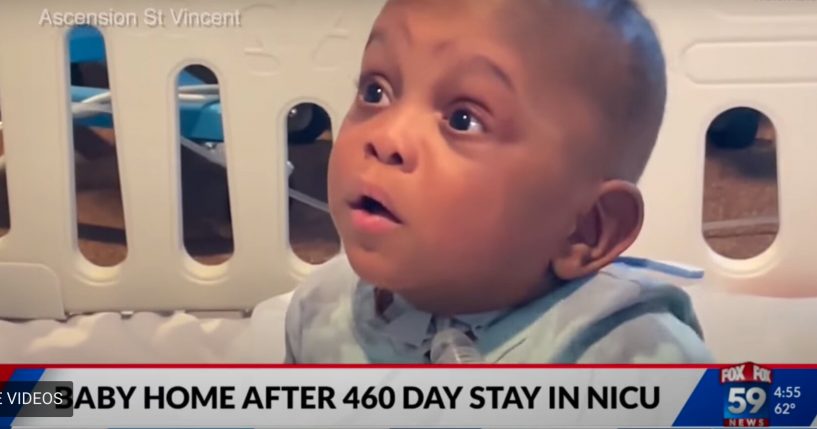 After spending the first year of his life in the NICU, Kendall Jurnakins is now home with his family.
In December 2020 at Ascension St. Vincent Women's Hospital in Indianapolis, Kendall Jurnakins was born prematurely and only weighed 15 ounces. At this point, his survival rate according to his doctors was about a 50-50 chance.
Kendall's mother, Sparkle Jurnakins had to get an emergency c-section due to high blood pressure further complicated by her diabetes and having only one kidney.
Advertisement - story continues below
As his health diminished, she began to fear for her baby boy's life.
"I just was scared my baby wasn't gonna make it because they said at that small, he probably wasn't gonna make it," she told Good Morning America."
Having been born at just 25 weeks, Kendall developed many health problems like respiratory distress syndrome and chronic lung disease. He also started having problems with eating.
This led to Kendall having to get a tracheostomy for his lungs, a gastrostomy tube for eating, and he was also put on a ventilator to help his breathing.
Advertisement - story continues below
"I was going to visit him every day. He was really sick in the beginning," Jurnakins said. "We couldn't figure out why he couldn't get his lungs together. So we had to, they told me that his lungs wasn't really fully developed like they should. They was gonna have to trach it. So we ended up having to have that big surgery, a trach put in for him to be healthy."
During this time, Sparkle Jurnakins developed a health issue of her own. When Kendall was only eight months old, she contracted COVID-19 and admitted herself into the same hospital as her baby boy.
Sparkle said that the only thing she could remember was going into the hospital and telling them that she couldn't breathe. 
The mom of 3 was then was put on a ventilator and given a tracheostomy just like her son. She remained in intensive care unit for two months.
"COVID almost took me out…From August to October, I was in a coma. And then in the hospital till almost December," Jurnakins said.
Advertisement - story continues below
Just like her son, doctors also thought her survival rate was low.
"We thought she's not gonna survive and then all his nurses were really worried,"  Dr. Taha Ben Saad told "Good Morning America." He was also the doctor who took care of Kendall.
Thankfully, both Kendall and Sparkle Jurnakins have made a full recovery and Sparkle credits her husband, Keith Jurnakins, and her doctors and nurses for her survival.
Advertisement - story continues below
"Him being by my side through everything, I mean, it was so scary. Everything was scary," she said. "From me almost dying, to my son going through what he was going through, where they were just like, 'Oh, he's not gaining weight. He's not doing this.' It was just all these ups and downs, where we were just very worried that Kendall wasn't gonna come out of the hospital as a regular child," she shared.
Speaking of her son, Sparkle said, "I thought he was not gonna remember me because he was so tiny when I went in the hospital. Soon as I got there, he just laid on me and looked at me the whole time. It was the best feeling in the world."
On March 16, Kendall was cleared for discharge.
As he left the hospital with his parents, nurses lined up to give him a send off with cheers and applause.
Advertisement - story continues below
Philippians 4:6 says, "Do not be anxious about anything, but in everything by prayer and supplication with thanksgiving let your requests be made known to God," and Sparkle Jurnakins couldn't be more thankful.
"I couldn't believe it. I was just like, 'Oh, my baby really made it. Oh, we're coming home. Oh, Lord. Thank you," she said. "I prayed. I cried. I was happy. I was sad. I was everything but I was ready for my baby to come home," she said.
As she reflected over the past 15 months, there was something Sparkle Jurnakins wanted her baby boy to know.
"I want to say, his mother fought for him like he's a fighter," she said. "He was a fighter forever and I fought for him."
Advertisement - story continues below
Sparkle described Kendall as "a bundle of fun."
"He's Mr. Personality. If you ever meet him, you will always remember him. He's funny, he likes attention," she shared.
Truth and Accuracy
We are committed to truth and accuracy in all of our journalism. Read our editorial standards.
Comment Down Below
Conversation