AG Barr Criticizes Trump's Tweets About DOJ: They 'Make It Impossible to Do My Job'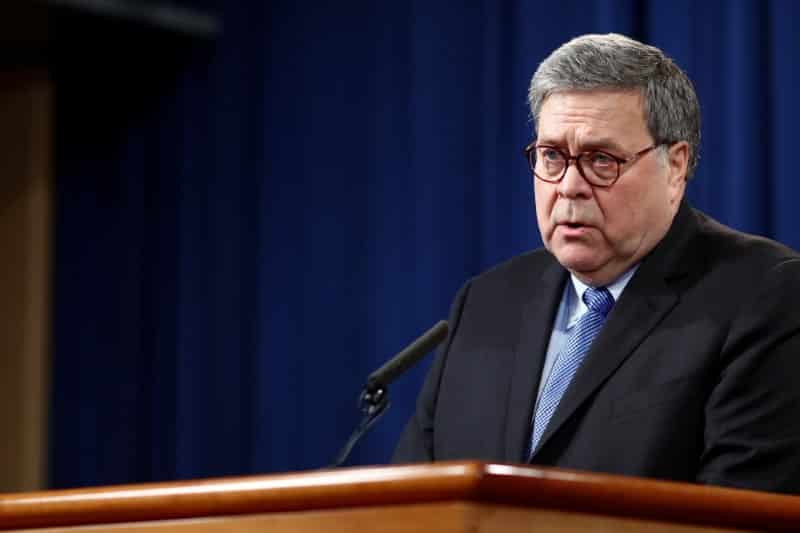 In a rare rebuke of his boss's social media habits, Attorney General William Barr said that President Donald Trump's tweets "make it impossible" to do his job.
In an interview with ABC News on Thursday, Barr said that Trump had never asked him to intervene in a criminal case, but he added, "I think it's time to stop the tweeting about Department of Justice criminal cases."
He said that Trump's musings on Twitter have hindered his ability to operate as the nation's chief law enforcement officer and that they create a "constant background commentary that undercuts me."
"Public statements and tweets made about the department, about our people in the department, our men and women here, about cases pending in the department, and about judges before whom we have cases, make it impossible for me to do my job, to assure the courts and the prosecutors and the department that we're doing our work with integrity."
Watch the interview below:
"I'm not going to be bullied or influenced by anybody….whether it's Congress, newspaper editorial boards, or the president," Bill Barr tells @ABC News.

"I cannot do my job here at the department with a constant background commentary that undercuts me." https://t.co/14rnEMD65c pic.twitter.com/QuoTgpUVHp

— ABC News Politics (@ABCPolitics) February 13, 2020
When asked if Barr if he was prepared for any potential blowback from Trump, who is not afraid to lash out at those who criticize him, the attorney general said, "Of course."
He continued to say that he would not be "bullied or influenced by anybody," including members of Congress, the press, or the president into making certain decisions.
"I'm not going to be bullied or influenced by anybody … whether it's Congress, newspaper editorial boards, or the president. I'm going to do what I think is right."
In a statement after Barr's interview, White House Press Secretary Stephanie Grisham said Trump "wasn't bothered" by the attorney general's comments, but added that the president has "the right" the voice his opinion.
"The President wasn't bothered by the comments at all, and he has the right, just like any American citizen, to publicly offer his opinions. President Trump uses social media very effectively to fight for the American people against injustices in our country, including the fake news. The President has full faith and confidence in Attorney General Barr to do his job and uphold the law."
Barr's comments come in light of a new firestorm, sparked by a Trump tweet related to the sentencing of former Trump campaign aide Roger Stone.
On Monday, prosecutors asked Judge Amy Berman-Jackson to give Stone seven to nine years in prison after he was convicted on charges of witness tampering, obstruction of justice, and lying to Congress.
After news broke of the requested sentencing time, Trump called it a "horrible and very unfair situation" in a late-night tweet.
This is a horrible and very unfair situation. The real crimes were on the other side, as nothing happens to them. Cannot allow this miscarriage of justice! https://t.co/rHPfYX6Vbv

— Donald J. Trump (@realDonaldTrump) February 11, 2020
Later the Justice Department withdrew its sentencing recommendations and issued a new lighter recommendation. That move led Trump's critics to suggest that the president had improperly pressured the department to revise its sentencing recommendations to benefit a political ally.
However, Trump has denied that he pressured the department to change its sentencing recommendation. And Barr told ABC News that he was already considering revising it before Trump sent that tweet.