News
Bernie Sanders Jokes After Being Asked About Politicians and Age Limits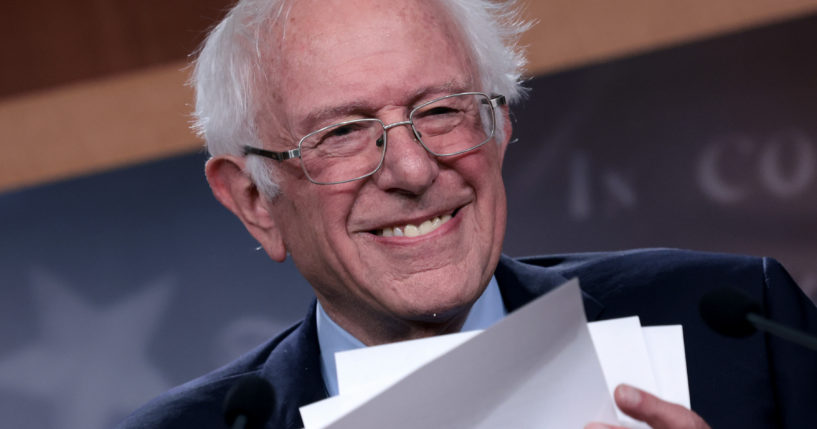 Sen. Bernie Sanders (D-Vt.) responded with a joke to a question about politicians and age limits.
During an appearance on "CBS Mornings," co-host Gayle King noted there is a "group of younger politicians who say now is the time to let the younger generation come through."
Co-host Tony Dokoupil mentioned a poll showing most Americans say there should be age limits on politicians.
Advertisement - story continues below
"Where are you on that question, Mr. 81-year-old?" Dokoupil asked.
Sanders laughed and acted like he did not hear the question.
"Excuse me, what did you say?" Sanders joked.
He added, "What I think we do, guys, is we look too much at race, at gender, at age — what does somebody stand for?"
Advertisement - story continues below
Still, Sanders acknowledged voters want "people who are competent, capable, have the energy. I mean, my God, to be president the United States requires an enormous amount of energy."
He continued, "But I would say first of all, take a look at what people stand for, and we don't do that enough."
Should there be age limits on politicians?
Watch Sanders' comments below:
"You wanna restore democracy? Have a government that works for ordinary people": @SenSanders says Democrats' agenda going into the midterms should "speak to the needs of working people."

He shares which policies they should focus on — and talks 2024. pic.twitter.com/KcqDvghR00

— CBS Mornings (@CBSMornings) September 27, 2022
According to a CBS News poll, 73% say there should be maximum age limits for elected officials compared to 27% who do not believe there should be age limits.
Advertisement - story continues below
Forty percent believe 70 years old should be the maximum age limit for elected officials.
The survey was conducted from August 29 to 31 and surveyed 2,085 U.S. adult residents.
CNN noted last week previous polls have indicated President Joe Biden's age "plays a large factor in doubts Americans have about him serving a second term."
Others have raised questions about Biden's mental fitness, as IJR reported.
Advertisement - story continues below
Former White House physician Rep. Ronny Jackson (R-TX) told Fox News "it's continued to get worse since he was candidate Joe Biden."
He continued, "When I first started talking about this, the American people have continued to have questions about a lot of his bizarre behaviors, this holding hands thing is one of them, the way he makes up stories, and he just repeatedly tells the stories that everyone has documented are not true, that happens pretty frequently."
Truth and Accuracy
We are committed to truth and accuracy in all of our journalism. Read our editorial standards.
Comment Down Below
Conversation