News
Biden Hit With 2 'Pinocchios' for 'Misleading' Claim About Price Tag for Spending Plan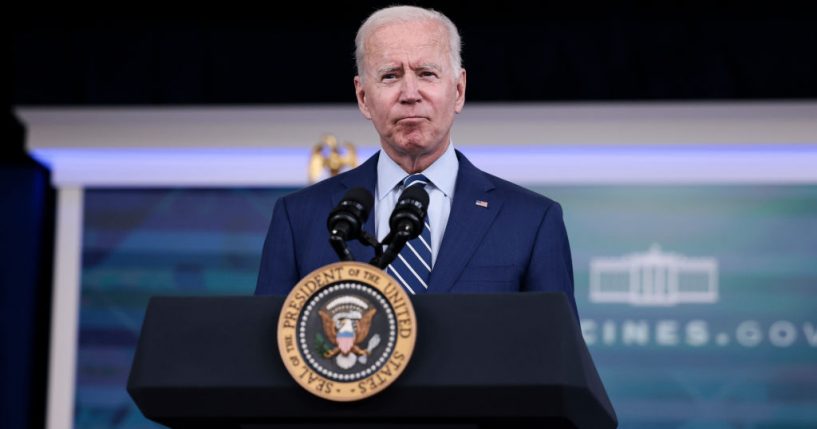 President Joe Biden is being called out for a claim he has repeated about the actual price tag of his "Build Back Better" agenda.
While speaking to reporters on Friday, Biden claimed, "We talk about price tags. It is zero price tag on the debt. We're paying — we're going to pay for everything we spend."
And in a tweet on Saturday, he repeated that claim.
Advertisement - story continues below
My Build Back Better Agenda costs zero dollars.

Instead of wasting money on tax breaks, loopholes, and tax evasion for big corporations and the wealthy, we can make a once-in-a-generation investment in working America.

And it adds zero dollars to the national debt.

— President Biden (@POTUS) September 26, 2021
However, The Washington Post's fact-checker, Glenn Kessler, said that claim is "misleading."
In an article published on Tuesday, Kessler wrote, "The president and his aides have argued that this is misguided because Democrats are proposing to fund this spending with tax hikes on the wealthy, tougher tax enforcement, and other revenue raisers. Thus, while the gross cost might be $3.5 trillion, the net cost to the Treasury would be zero."
"That's the theory. But it's worth recalling that this legislative package has evolved since Biden first claimed in the spring that his spending plans would not 'add a single penny to our deficit.' One part of that package has already been pegged as a deficit-raiser, and in a bit of sleight of hand, the White House is now focused on the second part," he continued.
Advertisement - story continues below
He noted that the original "Build Back Better" plan included a 10-year $2.25 trillion infrastructure plan and another $1.8 trillion American Families Plan that would have spent money to provide free community college and free prekindergarten programs. Together the two plans were predicted to add $1 trillion to the deficit over 10 years.
However, Kessler noted that White House officials argued that over 15 years, the revenue from tax increases would pay for the money appropriated. Still, he noted that budget analysts were "divided" about whether Biden's plans would raise enough revenue to offset the spending.
"But since then, everything has changed through legislative sausage-making," Kessler added as he noted the bipartisan plan had "shrunk to about $550 billion in new spending over 10 years" and does not include tax increases.
He noted that the Congressional Budget Office estimated that plan would add "256 billion to the federal budget deficit over 10 years, but for complicated reasons that is a lowball figure."
The fact-checker also explained that a "big chunk of the funding from unused funds taken from a previous coronavirus bill."
Advertisement - story continues below
However, Kessler noted that the other part of Biden's plan has "grown from $1.8 trillion to $3.5 trillion as climate-change elements from the original infrastructure bill and other Democratic wish-list items have been added."
He explained that because the spending will be offset by "revenue raisers — such as tax increases on the wealthy and corporations — so the impact on the deficit will be as low as zero or as high as $1.75 trillion over 10 years."
Additionally, he said that lawmakers will likely pay "play all sorts of budget games" to meet Biden's promise that its price tag will be "zero."
While Mark Zandi and Bernard Yaros Jr. of Moody's Analytics noted the plan is "largely paid for" and does not add "meaningfully" to the deficit "on paper," they said "there is a risk that spending and tax credits in the plan that are slated to ultimately expire will not" which would lead to a larger deficit.
Advertisement - story continues below
Finally, the fact-checker noted, "Originally the two bills were supposed to work in tandem, but now the White House claims only the reconciliation bill represents the president's 'Build Back Better' plan. That wasn't the story in the spring."
"On top of that, given our long experience in writing about the federal budget, we're pretty certain a deficit score of zero would only be accomplished with some dubious gimmicks that help disguise the true cost of Biden's agenda," he continued.
Kessler said, "We'll keep an eye on the final outcome, but for Americans not steeped in budget arcana, the president's claim is misleading. For now, Biden earns Two Pinocchios — a number that could grow higher."
Truth and Accuracy
We are committed to truth and accuracy in all of our journalism. Read our editorial standards.
Comment Down Below
Conversation