News
Biden Slips Up, Says 350 Million Americans Have Been Vaccinated Against COVID-19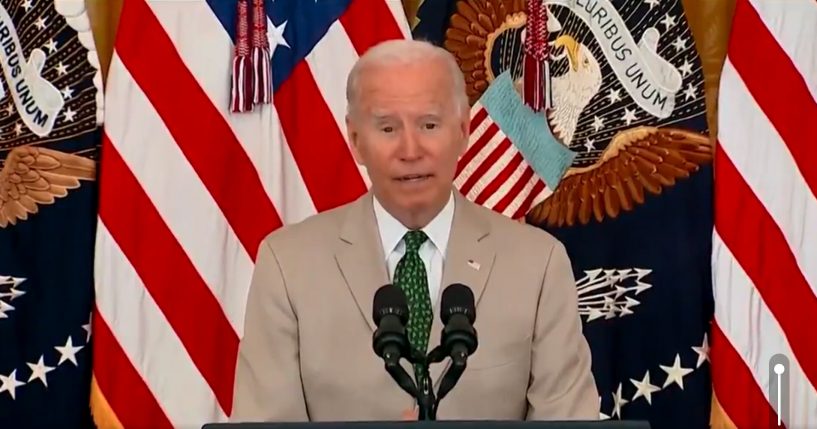 President Joe Biden mistakenly said that roughly 20 million more Americans have been vaccinated than live in the country.
During an event at the White House on Friday, Biden urged people to get vaccinated and pointed out that millions of Americans have been vaccinated against COVID-19 already without significant side effects.
"We have to get more people vaccinated. I've said, well over, what's the number again? I remind myself," Biden said as he appeared to glance at notes.
Advertisement - story continues below
The president continued, "350 million Americans have already been vaccinated. They're doing fine."
Watch the video below:
Joe Biden just claimed "350 million" Americans have been vaccinated.

There are only 328 million people in the United States. pic.twitter.com/mdJ2VRCp8c

— Caleb Hull (@CalebJHull) August 6, 2021
It is unclear where that number came from.
Advertisement - story continues below
According to the U.S. Census Bureau, in 2019, the country's population was estimated to be 328,239,523.
Additionally, the Centers for Disease Control and Prevention's (CDC) website reports that 193,199,353 million Americans have received at least one dose of the vaccine, and 165,637,566 have been fully vaccinated, as of Thursday evening.
The CDC notes that 403,047,945 doses of the vaccine have been delivered, but only 348,966,419 have been administered to people.
Biden has previously mixed up numbers while listing statistics.
During a campaign event last year, he dramatically overstated the number of deaths from the coronavirus, as he said," "Now we have over 120 million dead from COVID."
Advertisement - story continues below
"I mean, 120,000 dead from COVID," Biden added as he corrected himself.
And during a Democratic presidential primary debate, he said, "150 million people have been killed since 2007, when Bernie voted to exempt gun manufacturers from liability. More than all the wars, including Vietnam, from that point on."
As USA Today notes, "A member of Biden's campaign said Biden meant to say 150,000 people. Biden has previously referenced that stat correctly."
According to the CDC, between 2007 and 2018, there were 148,182 firearm homicides.
Truth and Accuracy
We are committed to truth and accuracy in all of our journalism. Read our editorial standards.
Comment Down Below
Conversation