News
Biden Admin Announces It Will Be Going 'Door-to-Door' To Get Americans Vaccinated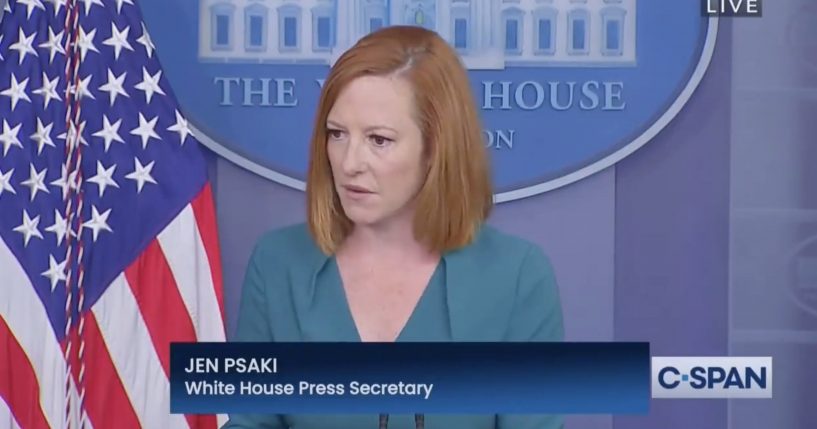 White House Press Secretary Jen Psaki announced the Biden administration would be going "door-to-door" to encourage Americans to get vaccinated.
"The president will outline five areas his team is focused on to get more Americans vaccinated. One, targeted community by community, door-to-door outreach to get remaining Americans vaccinated by ensuring they have the information they need on how both safe and accessible the vaccine is," Psaki said during Tuesday's White House press briefing.
Watch part of the press briefing below:
Advertisement - story continues below
Jen Psaki: We will be going door-to-door to Americans who have not been vaccinated pic.twitter.com/S70VjPojfj

— Caleb Hull (@CalebJHull) July 6, 2021
The administration did not meet its own goal of having 70% of American adults at least partially vaccinated and 160 million people fully vaccinated by July 4.
"By the end of the week, the U.S. will be nearing 160 million people fully vaccinated, which is critically important as fully vaccinated people are protected against the delta variant," a White House official said.
The president will be delivering remarks Tuesday afternoon encouraging Americans to get vaccinated and discussing the five areas the administration will focus on.
Advertisement - story continues below
While delivering remarks on the Fourth of July, Biden acknowledged the fight against COVID-19 is not over.
"Two hundred and forty-five years ago, we declared our independence from a distant king," he said.
He added, "Today, we're closer than ever to declaring our independence from a deadly virus. That's not to say the battle against Covid-19 is over. We've got a lot more work to do."
In a tweet on the same day, he expressed appreciation for those who have been vaccinated.
"This Fourth of July, America is back. We're headed into a summer of joy – of freedom – thanks to the millions of Americans who stepped up to get vaccinated. To the frontline and essential workers who have made this day possible: thank you," Biden wrote.
Truth and Accuracy
We are committed to truth and accuracy in all of our journalism. Read our editorial standards.
Comment Down Below
Conversation