News
Biden to Approve Release of Oil From Strategic Petroleum Reserve to 'Protect' Americans From Rising Prices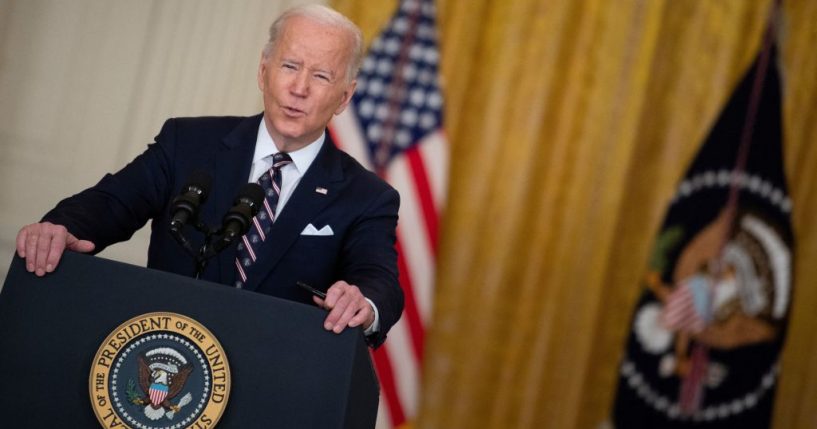 Amid concerns that Russia's invasion of Ukraine could send gas prices even higher, President Joe Biden will approve a release of oil from the Strategic Petroleum Reserve.
In a statement on Tuesday, White House Press Secretary Jen Psaki said, "President Biden was clear from the beginning that all tools are on the table to protect American businesses and consumers, including from rising prices at the pump."
"After intensive around-the-clock coordination and consultation by President Biden, the Administration and our Allies and partners, the International Energy Agency (IEA) Member countries, supported by the European Commission, agreed to a collective release of an initial 60 million barrels of crude oil from our strategic petroleum reserves," she continued.
Advertisement - story continues below
Psaki added, "As part of this agreement, President Biden will authorize the Department of Energy to release 30 million barrels from the U.S. Strategic Petroleum Reserve… We are prepared to use every tool available to us to limit disruption to global energy supply as a result of President Putin's actions. We will also continue our efforts to accelerate diversification of energy supplies away from Russia and to secure the world from Moscow's weaponization of oil and gas."
Read the statement below:
U.S. to release 30M barrels of oil from strategic reserve pic.twitter.com/SM7La7oqOD

— Rachel Frazin (@RachelFrazin) March 1, 2022
Biden previously predicted that a conflict in Ukraine could lead to higher gas prices, as IJR reported. However, he vowed his administration is "taking active steps to alleviate pressure on our own energy markets and offset raising prices."
Advertisement - story continues below
The announcement comes as AAA reports that the average price for a gallon of gas nationally sits at $3.61, up from $3.37 a month ago.
While the administration is announcing a plan to tap the petroleum reserve, Florida Gov. Ron DeSantis (R) argued that the U.S. should boost domestic energy production to "hit" Russian President Vladimir Putin "where it counts."
Do you think the U.S. should boost energy production?
"This is a guy who's basically an authoritarian gas station attendant with some legacy nuclear weapons from the old Soviet Union. Their whole society is hollowed out except for that energy. And so if you want to him, hit him at the gas pump, hit him with energy," DeSantis said.
Truth and Accuracy
We are committed to truth and accuracy in all of our journalism. Read our editorial standards.
Comment Down Below
Conversation