Commentary
Bad News for Biden: Brutal Poll Reveals How Americans Feel About His Selection Process for SCOTUS Pick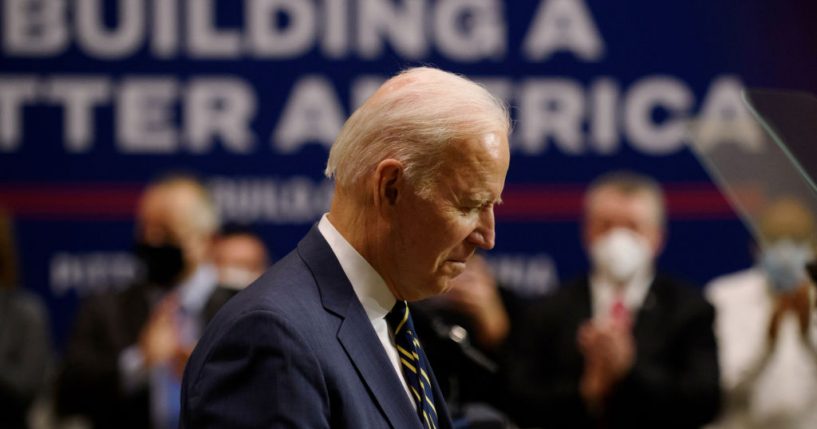 President Joe Biden may be hoping that by pre-determining that his Supreme Court nominee will be a history-making one, he can help his sagging poll numbers and energize Democrats ahead of the midterms.
But a new ABC News/Ipsos poll may say otherwise.
During the 2020 campaign, then-candidate Biden vowed that he would nominate the first Black woman to serve on the nation's highest court. And in the wake of Justice Stephen Breyer's announcement that he plans to retire, the president confirmed that he plans to follow through on his promise.
Advertisement - story continues below
Speaking at the White House on Thursday, Biden said, "I will select a nominee worthy of Justice Breyer's legacy of excellence and decency. While I've been studying candidates' backgrounds and writings, I've made no decision except one: The person I will nominate will be someone with extraordinary qualifications, character, experience, and integrity."
"That person will be the first Black woman ever nominated to the United States Supreme Court. It's long overdue, in my opinion," he added.
But an ABC News/Ipsos poll released on Sunday finds that a majority of Americans, 76%, believe he should contemplate "all possible nominees." 
Additionally, just 23% of Americans want Biden to follow through on his campaign pledge.
Advertisement - story continues below
BREAKING: Just over three-quarters of Americans (76%) want Pres. Biden to consider "all possible nominees," while 23% want him to follow through on his commitment to nominate the first Black woman to the Supreme Court, per a new @ABC News/Ipsos poll. https://t.co/FHLGrgJg9Z

— ABC News (@ABC) January 30, 2022
The numbers did not get better from there.
Do you think Biden should consider "all possible" nominees?
While the poll noted that the sample size was not large enough to "break out results for Black people," it found that just one in four, 28%, nonwhite Americans think Biden should only consider a Black woman for the court.
Not even a majority of his party is on board with his limitations either. While 46% of Democrats said they approve of his decision, 54% said they want him to consider all potential nominees.
As ABC notes, "Democrats hope that the nomination will re-engage Democrats, who are sorely in need of a boost in the run-up to what is shaping up to be a very challenging midterm election for the party."
Advertisement - story continues below
It is worth pointing out that Biden's decision to publicly state that he would limit his search pool is not entirely without precedent. President Ronald Reagan declared in 1980 that he would make history by nominating a woman to fill "one of the first Supreme Court vacancies in my administration."
And in 2020, then-President Donald Trump vowed that he would nominate a woman to replace the late-Justice Ruth Bader Ginsburg.
Despite the poll's results, it's possible that whoever Biden's nominee is will win the approval of the American public. When Trump first nominated Justice Amy Coney Barrett to the court, a poll from The Washington Post/ABC News found that a majority of Americans did not approve of her nomination.
However, as her confirmation process got underway, a Politico poll found that a majority of Americans thought her nomination should be approved by the Senate. Still, according to the survey, the nomination did not give Trump's approval rating a bounce.
Advertisement - story continues below
Whether or not Biden's Supreme Court nominee will energize the Democratic base ahead of the midterms is yet to be seen.
Truth and Accuracy
We are committed to truth and accuracy in all of our journalism. Read our editorial standards.
Comment Down Below
Conversation