News
Biden Butts Heads With Fox News' Doocy Over Past Promise About Vaccine, Masks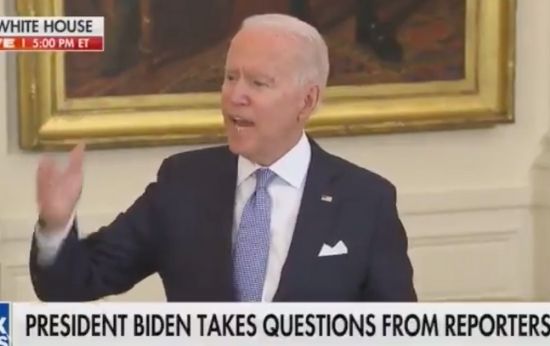 President Joe Biden appeared annoyed with a reporter when confronted over a past promise.
The president was asked by Fox News's Peter Doocy, "In May you made it sound like the vaccine was to lose the mask forever."
"That was true at the time," Biden shouted back, seeking to clarify his past comment. "I thought people would understand that getting vaccinated made a gigantic difference."
Advertisement - story continues below
He added, "What happened was a new variant came along, they didn't get vaccinated, it spread more rapidly and people are getting sick. That's the difference."
Biden has very little patience for Peter Doocy's attempted gotcha pic.twitter.com/H9GnWl6Usa

— Aaron Rupar (@atrupar) July 29, 2021
Biden's exchange with Doocy on Thursday came after the president urged Americans to get vaccinated in an effort to combat the coronavirus pandemic.
In May, Biden said during a Rose Garden address, "If you are fully vaccinated, you no longer need to wear a mask," adding, "Get vaccinated — or wear a mask until you do."
Advertisement - story continues below
The director of the U.S. Centers for Disease Control and Prevention (CDC), Rochelle Walensky, said earlier that day in May, "We have all longed for this moment — when we can get back to some sense of normalcy."
On Thursday, Biden called on states to pay people $100 to get vaccinated against COVID-19, as IJR reported on.
Do you think vaccinated people should have to wear a mask?
The president also unveiled that federal employees will either have to get vaccinated or face tough COVID-19 testing and measures. Officials say that it is not a mandate.
"It's an American blessing that we have vaccines for each and every American," Biden said. "It's such a shame to squander that blessing."
As of Friday, 49% of Americans are fully vaccinated, according to The New York Times. The number of new COVID-19 cases reported in the U.S. has continued to increase since early July.
Advertisement - story continues below
This week, the CDC advised vaccinated Americans to wear a mask when indoors in certain circumstances.
"It is not a welcome piece of news that masking is going to be a part of people's lives who have already been vaccinated," Walensky said on Tuesday. "This new guidance weighs heavily on me."
Truth and Accuracy
We are committed to truth and accuracy in all of our journalism. Read our editorial standards.
Comment Down Below
Conversation