News
Biden Mandates COVID-19 Vaccinations for Millions of Employees: 'Our Patience Is Wearing Thin'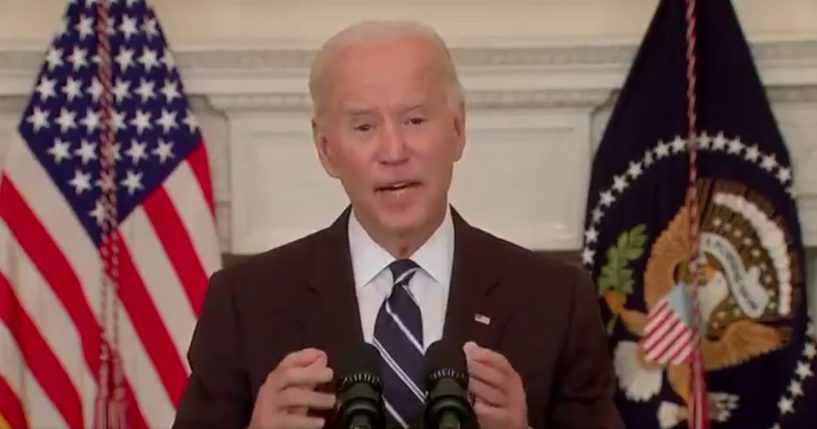 President Joe Biden is implementing new COVID-19 requirements for millions of federal and private-sector workers.
In a speech at the White House on Thursday, Biden addressed Americans who have not yet been vaccinated against the virus, "Many of us are frustrated with the nearly 80 million Americans who are still not vaccinated, even though the vaccine is safe, effective, and free."
"What more do you need to see? We've made vaccinations free, safe, and convenient. The vaccine is FDA approved. Over 200 million Americans have gotten at least one shot. We've been patient, but our patience is wearing thin, and your refusal has cost all of us."
Advertisement - story continues below
Watch the video below:
Biden on people who haven't gotten vaccinated:

"We've been patient but our patience is wearing thin and your refusal has cost all of us." pic.twitter.com/Hj4jnmWpuX

— Daily Caller (@DailyCaller) September 9, 2021
Biden's new mandates could require up to 100 million workers to get vaccinated.
As CNN reports, "At the center of Biden's new plan is directing the Labor Department to require all businesses with 100 or more employees ensure their workers are either vaccinated or tested once a week, an expansive step the President took after consultation with administration health officials and lawyers. Companies could face thousands of dollars in fines per employee if they don't comply."
Advertisement - story continues below
Additionally, he is requiring all federal employees to get vaccinated and eliminating the option for them to get tested weekly for the virus. That new requirement also applies to federal contractors.
The president also said he will require 17 million healthcare workers in facilities that receive Medicare and Medicaid to be vaccinated.
Do you think this is a good idea?
The new mandates come as the U.S. is in the midst of a surge of COVID-19 cases and adding an average of 147,000 cases a day. At the same time, 27% of Americans 12 and up have not received one dose of the vaccine.
Truth and Accuracy
We are committed to truth and accuracy in all of our journalism. Read our editorial standards.
Comment Down Below
Conversation