Biden Fact-Checked Over Remark Economy 'Will Create 19 Million Jobs' if Infrastructure Plan Is Passed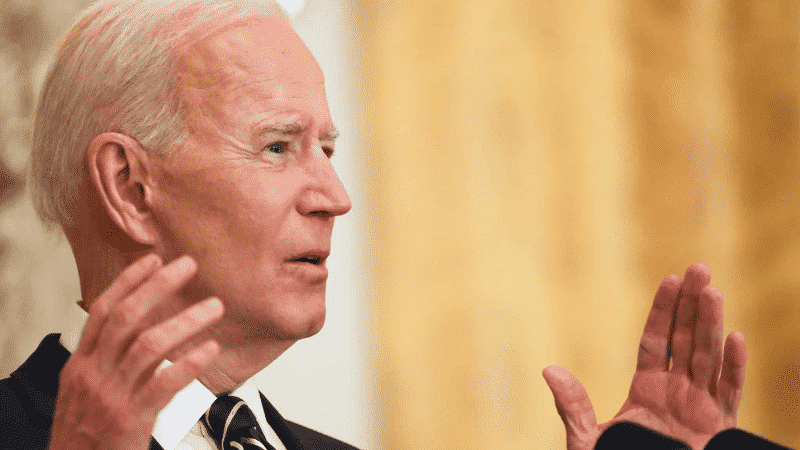 President Joe Biden was slapped by The Washington Post with two "Pinocchios" — which can mean "significant omissions and/or exaggerations" and something similar to "half true" — for a recent remark.
As the Post writes for two "Pinocchios," "A politician can create a false, misleading impression by playing with words and using legalistic language that means little to ordinary people."
Biden said during remarks on April 2, "Independent analysis shows that if we pass this plan, the economy will create 19 million jobs — good jobs, blue-collar jobs, jobs that pay well."
"It's a blue collar blueprint" — Biden says that 90 percent of the jobs created by his infrastructure plan could be filled by people without a college degree pic.twitter.com/MOvf5pj4vw

— Aaron Rupar (@atrupar) April 2, 2021
The Post's fact checker Glenn Kessler points to Moody's Analytics, an economic research firm, as the source of the "19 million" number the president put out.
"These numbers include many jobs that would be created if government policymakers did absolutely nothing," Kessler writes. "Confused? Well, so are administration officials at times."
He goes on to explain how Moody's report shows three scenarios, which are: No government intervention, American Rescue Plan passed into law, and both the American Rescue Plan and American Jobs Plan — the infrastructure plan — passed into law.
Moody's economist and chief author of the report Mark Zandi told the Post, "With the AJP, the economy will create 18.96 million jobs between the fourth quarter of 2020 and the fourth quarter of 2030. Without the AJP, the economy will create 16.3 million jobs [in that period]. If the ARP had not been passed and without the AJP, the economy would have created 15.65 million jobs."
Therefore, over 10 years, about 15.65 million jobs were estimated to be created with no new government intervention.
The infrastructure plan would provide a boost to the economy, as "almost 2.7 million additional jobs would be created over 10 years," Kessler writes.
The Post points out that some Biden administration officials have "bungled" talking points to make it seem that 19 million jobs would all come directly from the infrastructure plan.
White House press secretary Jen Psaki said during Friday's press briefing, "A report from Moody's Analytics that came out yesterday afternoon projects that the economy will create 19 million jobs over the next decade if Congress passes the American Jobs Plan."
Kessler notes the lines used "do not include the word 'help,' as in 'will help create.'"
Regarding Biden's and other administration officials' comments, Kessler writes, "This is an example of the White House wanting to have its cake and eat it too."
"Note how Biden carefully does not say the infrastructure plan would create 19 million jobs; instead, he says the economy would create that many jobs if the plan was passed," he adds. "Biden's language is just on the edge of being technically correct, but even experienced communicators such as Deese and Buttigieg messed it up during interviews."