Commentary
Biden Insists 'The Idea' That His $1.9 Trillion COVID Relief Bill 'Caused' Inflation Is 'Bizarre'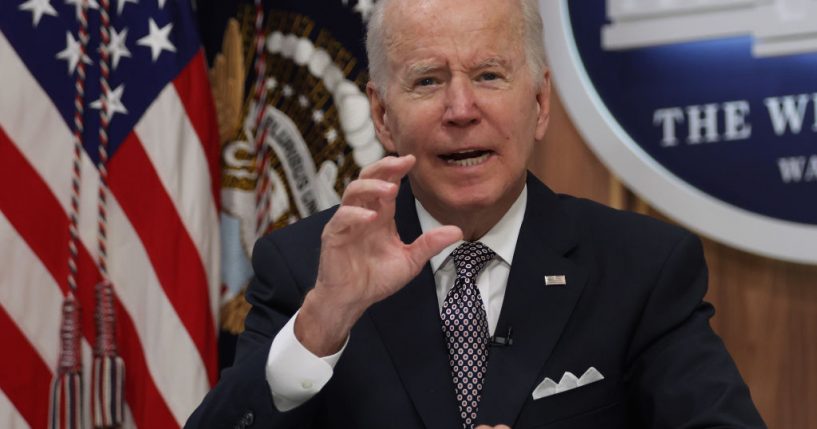 With the rate of price increases stubbornly remaining near a 40-year-high, President Joe Biden has insisted that his policies have not fueled inflation.
But during an interview with The Associated Press' Josh Boak, Biden went a step further in defending his policies.
Boak noted, "When you came into office, it seems as though you made the choice to prioritize job growth. Republicans right now are saying to voters that inflation started with your COVID relief package."
Advertisement - story continues below
"Zero evidence of that. Zero evidence of that, number one. Number two, we've reduced the deficit by $350 billion last year. We reduced the deficit by a trillion, 700 billion this year. We grow the economy," Biden responded.
Boak then asked, "So do you think that when Treasury Secretary Yellen said it might have made a marginal contribution to inflation that that was off?"
"Now you just said two different things. You said Republicans said I caused inflation. She said it may have a marginal impact on it," the president said.
He added, "Two different things. You could argue whether it had a marginal, minor impact on inflation. I don't think it did. And most economists do not think it did. But the idea that it caused inflation is bizarre."
Advertisement - story continues below
Biden tells AP that the notion that the 2021 coronavirus relief bill caused inflation is 'bizarre'

— Josh Boak (@joshboak) June 16, 2022
Biden is correct that the price increases did not start only after the passage of his $1.9 trillion American Rescue Plan (ARP). As Reuters notes, inflation was already running at a high not seen for a decade because of the stimulus package passed under his predecessor.
Do you think it is a "bizarre" claim?
However, more economists are now agreeing that his stimulus package helped fuel inflation. According to some economists, the measure added between two and four percentage points to inflation, or about a quarter to a half of the inflation rate.
Some critics of the president may genuinely be trying to claim that inflation only started after the ARP was passed. However, others probably mean that the president's spending package "caused" inflation to surge.
But while Biden rejects the charge that inflation started with him, he seems to have no issue playing a similar semantic game when he blames Russian President Vladimir Putin for inflation while conveniently leaving out that price increases hit a 40-year high months before the invasion of Ukraine.
Advertisement - story continues below
So Biden's policies did not cause inflation, and neither did Russia's invasion of Ukraine. But both made it worse, even if the president doesn't want to admit it.
Truth and Accuracy
We are committed to truth and accuracy in all of our journalism. Read our editorial standards.
Comment Down Below
Conversation