News
Biden Is Not Looking to 'Get Rid of the Second Amendment,' White House Says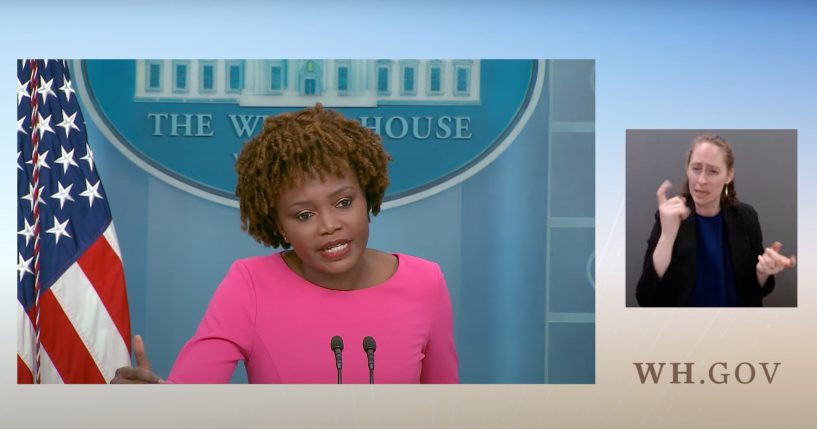 While some have called for the Second Amendment to be repealed in the wake of the Uvalde, Texas, school shooting, the White House says President Joe Biden is not on board with that.
During a press briefing on Thursday, RealClearPolitics' Philip Wegmann asked White House Press Secretary Karine Jean-Pierre, "Getting down to brass tacks though, what does the president believe at this point is the purpose of the Second Amendment?"
He added, "And does he think that given some of the tragedies that we've seen that there should be a discussion about its ultimate purpose and whether or not it's still necessary?" 
Advertisement - story continues below
"So the president has been very clear: What he is calling for is commonsense gun reform. That's it," Jean-Pierre responded.
She continued, "He's calling for commonsense gun reform to make sure that if you go to a church, you go to elementary school, you go to a grocery store, that you're not gunned down. That's what he's asking for."
Jean-Pierre went on:
"We're not talking about the Second Amendment or doing anything to get rid of the Second Amendment…Nineteen kids and two teachers died.  That's the second major mass shooting that has occurred in two weeks.  And we're not even talking about the crime that we see, the gun violence that we see across the country on a regular basis."
Advertisement - story continues below
Watch the video below:
Do you think the 2nd Amendment should be repealed?
The exchange comes after a shooting at Robb Elementary School in Uvalde killed 19 children and two adults, marking the second deadliest shooting in an elementary school in U.S. history.
On Tuesday evening, Biden delivered remarks about the shooting and said he was "sick and tired" of mass shootings.
"It's time to turn this pain into action. For every parent, for every citizen in this country, we have to make it clear to every elected official in this country: It's time to act. It's time for those who obstruct or delay or block the commonsense gun laws. We need to let you know that we will not forget," he added.
Advertisement - story continues below
And on Wednesday, Biden noted that he spent his career "working for commonsense gun reforms."
"While they clearly will not prevent every tragedy, we know certain ones will have significant impact and have no negative impact on the Second Amendment," he continued.
In case you missed it:
Advertisement - story continues below
Biden added, "The Second Amendment is not absolute.  When it was passed, you couldn't own a cannon, you couldn't own certain kinds of weapons. There's always been limitations."
PolitiFact has previously labeled Biden's claim about restrictions on cannon ownership "dubious."
Truth and Accuracy
We are committed to truth and accuracy in all of our journalism. Read our editorial standards.
Comment Down Below
Conversation