Biden Calls for Peaceful Protests After Police Shooting Of Black Man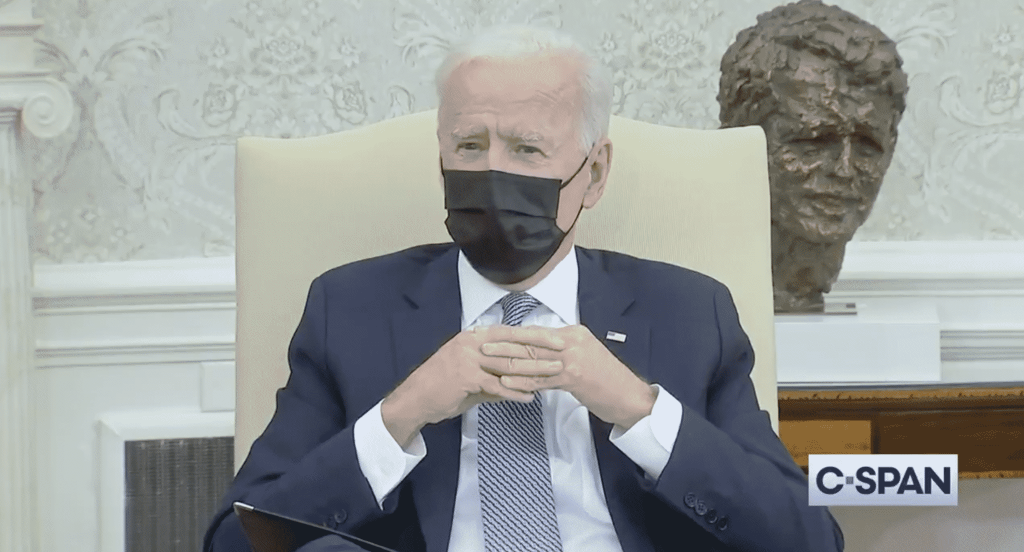 President Joe Biden is calling for protests to remain peaceful in the wake of the fatal shooting of Daunte Wright, a Black man, by a police officer in Brooklyn Center, Minnesota.
Speaking to reporters in the Oval Office on Monday, Biden said, "I think we've got to wait and see what the investigation shows. The entire investigation. You've all watched, I assume as I did, the … body cam, which is fairly graphic."
"The question is: Was it an accident, was it intentional? That remains to be determined by a full-blown investigation," he continued.
"But in the meantime, I want to make it clear again: There is absolutely no justification, none, for looting. No justification for violence. Peaceful protest is understandable."
He added that while the "anger, pain, and trauma that exists in the Black community" is "real," it does not justify violence or looting.
Watch the video below:
President Biden on fatal police shooting of Daunte Wright in Minnesota on Sunday night: "I think we got to wait and see when the investigation shows and the entire investigation. You all watched, I assume as I did, the film, the body cam, which is fairly graphic." pic.twitter.com/EN7XnKlzeX

— CSPAN (@cspan) April 12, 2021
Biden's comments come in the wake of the fatal shooting of Wright, 20, by a police officer in Brooklyn Center, a suburb of Minneapolis, on Sunday.
Wright was pulled over for a traffic violation. Officers also discovered that there was a warrant out for Wright's arrest during the traffic stop.
Body cam footage released on Monday shows an officer trying to detain Wright outside his car. He was shot after he managed to get back into his car. An officer was heard yelling, "Taser, Taser, Taser," before firing one shot from her handgun.
In a press conference on Monday, Brooklyn Center Police Chief Tim Gannon said, "This appears to me, from what I viewed and the officers' reaction and distress immediately after, that this was an accidental discharge that resulted in the tragic death of Mr. Wright."
Wright's death sparked protests on Sunday night. NBC News reports that rocks and "other objects" were thrown at the Brooklyn Center Police Department building. Police also reportedly fired tear gas and rubber bullets.
The shooting of Wright comes at the same time that the trial of Derek Chauvin, the former Minneapolis police officer accused of murdering George Floyd last May, is ongoing.