Commentary
Biden Calls for Peaceful Protests After SCOTUS Overturns Roe v. Wade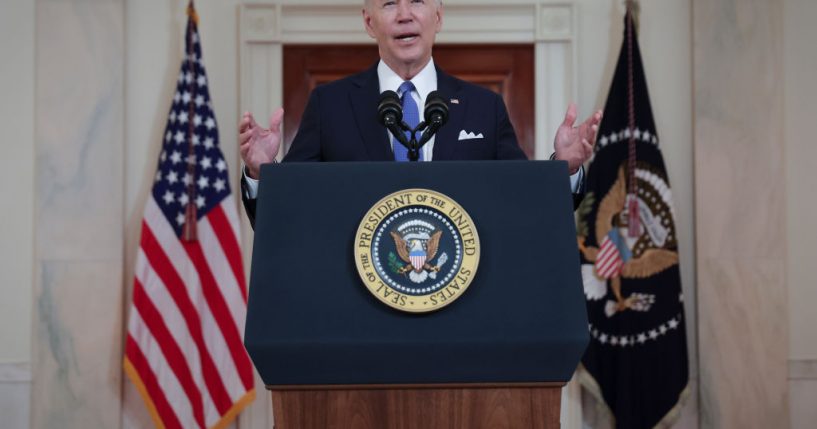 President Joe Biden is denouncing the vote by the Supreme Court to overturn the landmark Roe v. Wade decision, as well as Planned Parenthood v. Casey.
In remarks hours after the ruling was announced on Friday, Biden said, "The Supreme Court of the United States expressly took away a Constitutional right from the American people that it had already recognized."
"They didn't limit it. They simply took it away. That's never been done to a right so important to so many Americans. But they did it. It's a sad day for the court and for the country," he added.
Advertisement - story continues below
President Biden: "It is a sad day for the court and a sad day for the country … the health and life of women in this nation is now at risk." pic.twitter.com/DldYpefvRI

— Aaron Rupar (@atrupar) June 24, 2022
He later declared, "Make no mistake, this decision is a culmination of a deliberate effort over decades to upset the balance of our law. It's a realization of an extreme ideology and a tragic error of the supreme court in my view."
That Biden would denounce the decision was never really in doubt.
But, one thing that was left up in the air was whether or not he would accept the decision as legitimate.
Advertisement - story continues below
White House Press Secretary Karine Jean-Pierre declined to answer that question on Thursday.
And shortly after the decision was announced, protesters were heard chanting "illegitimate."
Do you think Biden deserves credit for this decision?
Rather than join the attacks on the court's legitimacy or the legitimacy of the decision, Biden called for voters to make abortion access a priority in the 2022 midterm elections. He also urged Congress to codify Roe v. Wade.
And perhaps more importantly, he unequivocally called for protests to remain peaceful.
"I call on everyone, no matter how deeply they care about this decision, to keep all protests peaceful, peaceful, peaceful, peaceful. No intimidation," Biden said.
Advertisement - story continues below
He went on, "Violence is never acceptable. Threats and intimidation are not speech. We must stand against violence in any form, regardless of your rationale."
Biden urges non-violent action in the wake of the Roe decision:

"Keep all protests peaceful. Peaceful, peaceful, peaceful. No intimidation. Violence is never acceptable."

He then says: "I hear you, I support you, I stand with you." pic.twitter.com/J83tVWKQa4

— Justin Baragona (@justinbaragona) June 24, 2022
It would have been better if he said this after the leaked draft opinion was published by Politico or after a man was arrested for allegedly planning to murder a Supreme Court justice, but at least he said it now that the decision is official and before any violent protests broke out.
One scenario, which is not entirely inconceivable, is that instead of delivering a call for voters to elect pro-choice politicians, Biden could have come out and decried "extremist" and "illegitimate" justices. He could have claimed that the ruling was the result of seats being "stolen" and argued that Democrats need to immediately get rid of the filibuster and pass legislation expanding the Supreme Court before it strips away more rights from Americans.
Advertisement - story continues below
But he did not do that.
This is a low bar, but Biden deserves credit for it nonetheless.
Truth and Accuracy
We are committed to truth and accuracy in all of our journalism. Read our editorial standards.
Comment Down Below
Conversation