News
Biden Pressed on Why Civilians Were Not Evacuated From Afghanistan First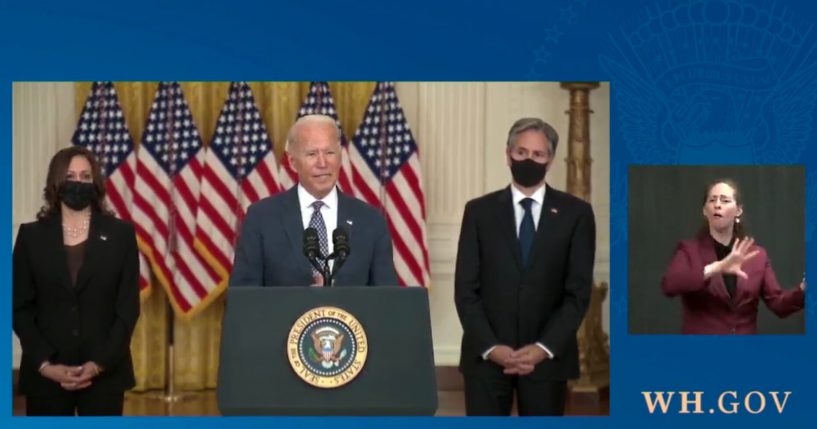 While the U.S. continues to evacuate Americans from Afghanistan, President Joe Biden is being asked why civilians were not evacuated before American troops were withdrawn.
During a press conference at the White House on Friday, Biden was asked, "Can you just fully explain why the plan wasn't to go ahead with these evacuations of both Americans and allies before the drawdowns before Bagram was closed… because whether it was now or several months from now, there seems to be a broad consensus that the Taliban would make these gains and these [evacuations] would be needed at some point?"
"Well, yeah, at some point," Biden began. "That some point wasn't expected to be the total demise of the Afghan national force, which was 300 persons."
Advertisement - story continues below
The president has repeatedly claimed that the Afghan military consisted of 300,000 soldiers. However, The Washington Post said that number is misleading and that the actual size of the military was probably less than 200,000.
"Let's assume the Afghan national force had continued to fight, and they were surrounding Kabul. It'd be a very different story. But the overwhelming consensus was that they were not going to collapse… so that's what happened," Biden said.
As he left, a reporter could be heard shouting a question, "Why do you continue to trust the Taliban?"
That question appeared to be a reference to the administration's reliance on the Taliban to grant Americans in Afghanistan safe passage to the Kabul airport so they could be evacuated.
Advertisement - story continues below
Watch the video below:
A reporter asks President Biden why the U.S. didn't evacuate Americans and allies before the troop withdrawal as the Taliban would take over at some point.

Biden blames the Afghan military. Walks away as a reporter shouts, "Why do you continue to trust the Taliban?" pic.twitter.com/ldgHP30akq

— Townhall.com (@townhallcom) August 20, 2021
Should civilians have been evacuated earlier?
On Monday, Biden addressed the collapse of Afghanistan's government and the chaotic scenes unfolding at the Hamid Karzai International Airport as thousands of Afghans try to flee the country."
"The truth is, this did unfold more quickly than we had anticipated. So, what's happened? Afghan political leaders gave up and left the country. The Afghan military collapsed," Biden said.
He added, "If anything, the developments of the past week reinforced that ending military involvement in Afghanistan now was the right decision. American troops cannot and should not be fighting in a war and dying in a war that Afghan forces are not willing to fight for themselves."
Truth and Accuracy
We are committed to truth and accuracy in all of our journalism. Read our editorial standards.
Comment Down Below
Conversation