News
Biden Seemingly Takes Rare Swipe at Manchin and Sinema During Speech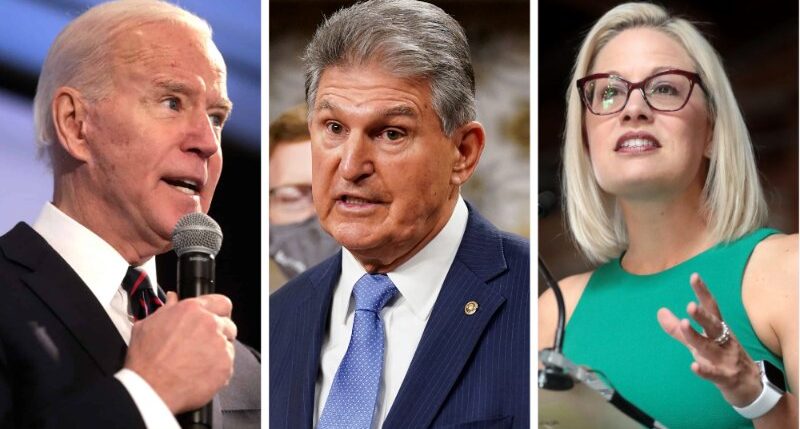 President Joe Biden is appearing to place blame on two Democratic senators.
The president said on Tuesday, "As for the act of voting itself, I urge voting rights groups in this country to begin to redouble their efforts now to register and educate voters. And June should be a month of action on Capitol Hill."
He continued, "I hear all the folks on TV saying, 'Why doesn't Biden get this done?' Well, because Biden only has a majority of effectively four votes in the House and a tie in the Senate, with two members of the Senate who vote more with my Republican friends. But we're not giving up."
Advertisement - story continues below
Biden's "two members of the Senate" remark appeared to be a swipe at Sens. Joe Manchin (D-W.V.) and Kyrsten Sinema (D-Ariz.), who are seen as centrist Democrats. This is a rare swipe Biden took at Democratic members of Congress.
Despite their moderate voting records, FiveThirtyEight notes Manchin has voted 100% in line with Biden so far and so has Sinema.
The president's remarks were during his speech commemorating the 100th anniversary of the Tulsa Race Massacre.
See Biden's comments (starting at 34:30):
Advertisement - story continues below
Manchin has vowed not to vote to "eliminate or weaken the filibuster." Despite pressure from progressives, Sinema has defended the filibuster.
The Senate is currently 50-50, and Democrats hold a narrow majority in the House of Representatives.
The filibuster is considered "a big hurdle in the way of Democrats' legislative priorities," according to The Washington Post.
As the Post writes, the filibuster "is a Senate rule that essentially requires 60 votes to pass most legislation (for example, the measures Democrats can't get through using reconciliation, like a minimum-wage increase or immigration reform)."
Truth and Accuracy
We are committed to truth and accuracy in all of our journalism. Read our editorial standards.
Conversation