News
Biden on Social Media Platforms: 'They're Killing People'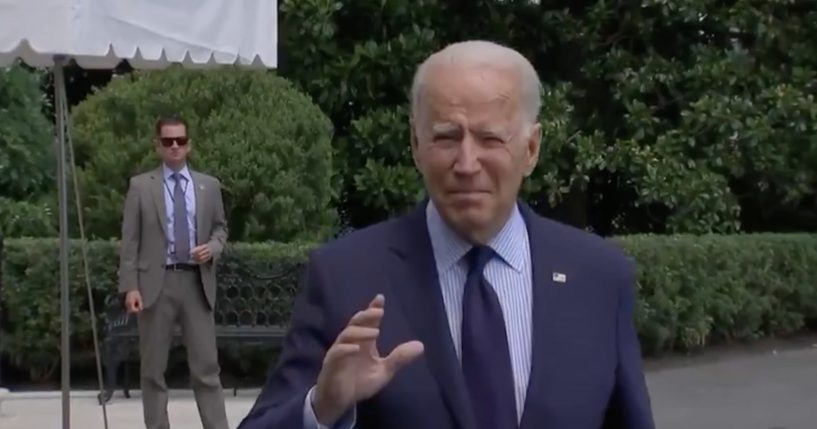 President Joe Biden says social media platforms are doing more harm than good.
A reporter asked Biden on Friday, "What's your message to platforms like Facebook?"
Biden replied, "They're killing people. The only pandemic we have is among the unvaccinated and they're killing people."
Advertisement - story continues below
Check out his remarks below:
Reporter: "What's your message to platforms like Facebook?"

President Biden: "They're killing people." pic.twitter.com/jrAvQpG7i0

— The Hill (@thehill) July 16, 2021
White House press secretary Jen Psaki announced on Thursday the Biden administration is "flagging problematic posts for Facebook that spread disinformation."
She battled with Fox News correspondent Peter Doocy during Friday's press briefing after he suggested the administration is "spying" on Americans, as IJR reported.
Advertisement - story continues below
"That was quite a loaded and inaccurate question," Psaki said.
She continued, "As you know, we're in regular touch with a range of media outlets…As we are in regular touch with social media platforms. This is publicly open information, people sharing information online, just as you are all reporting information on your news stations."
Psaki explained the administration's biggest concern is "the number of people who are dying around the country because they're getting misinformation that is leading them to not take a vaccine."
Surgeon General Vivek Murthy also warned Americans to look out for health misinformation on Thursday, as IJR reported.
"Today, we live in a world where misinformation poses an imminent and insidious threat to our nation's health," Murthy said.
Advertisement - story continues below
He continued, "Health misinformation is false, inaccurate, or misleading information about health according to the best evidence at the time."
Murthy suggested it "takes away our freedom to make informed decisions about our health and the health of our loved ones."
He also claimed it has "cost us lives."
The U.S. Centers for Disease Control and Prevention (CDC) director, Rochelle Walensky, warned on Friday, "This is becoming a pandemic of the unvaccinated. We are seeing outbreaks of cases in parts of the country that have low vaccination coverage."
Truth and Accuracy
We are committed to truth and accuracy in all of our journalism. Read our editorial standards.
Comment Down Below
Conversation