News
Biden Tells Transgender People They Are 'Made in the Image of God'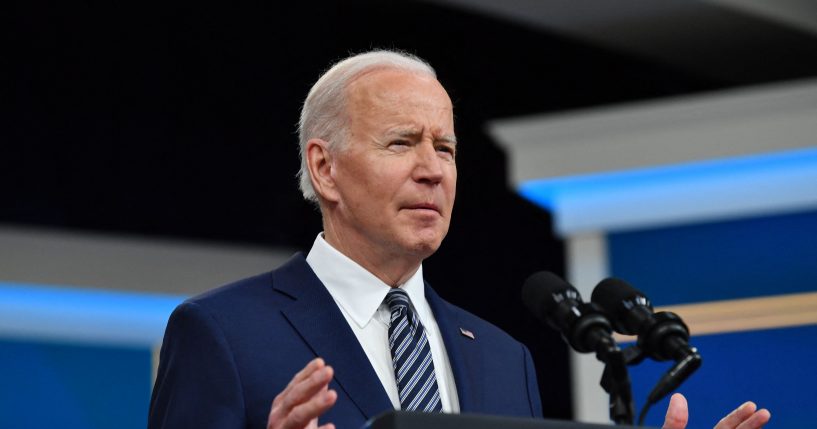 President Joe Biden is letting transgender people know they are "made in the image of God."
He tweeted on Thursday, "To everyone celebrating Transgender Day of Visibility, I want you to know that your President sees you."
Biden continued, "[Jill Biden], [Vice President Kamala Harris,] [Douglas Emhoff], and my entire Administration see you for who you are — made in the image of God and deserving of dignity, respect, and support."
Advertisement - story continues below
To everyone celebrating Transgender Day of Visibility, I want you to know that your President sees you. @FLOTUS, @VP, @SecondGentleman, and my entire Administration see you for who you are — made in the image of God and deserving of dignity, respect, and support.

— President Biden (@POTUS) March 31, 2022
Additionally, the Biden administration announced new actions to "support the mental health of transgender children, remove barriers that transgender people face accessing critical government services, and improve the visibility of transgender people in our nation's data."
The administration said it is taking steps to create a more safe and dignified travel experience for transgender people by including a different gender option on their U.S. passport application.
Other priorities listed by the administration include improving access to federal services and benefits for transgender Americans and advancing inclusion and visibility in federal data.
Advertisement - story continues below
During a video message celebrating the day, Biden called the "onslaught of anti-transgender state laws" attacking transgender people and their families "simply wrong."
He added, "This administration is standing up for you against all these hateful bills."
Sending a message to parents of transgender youth, Biden said, "Affirming your child's identity is one of the most powerful things you can do to keep them safe and healthy."
Check out the video below:
Advertisement - story continues below
The administration has previously spoken out against what they call anti-transgender bills.
In February, the White House condemned South Dakota's transgender athlete ban.
"The unfortunate reality is that Republican legislators in South Dakota and across the country are leveling legislative attacks that target transgender kids and their families in order to score political points," White House Assistant Press Secretary Kevin Munoz said in a statement.
He continued, "These anti-transgender bills are nothing more than bullying disguised as legislation and undermine our nation's core values."
Advertisement - story continues below
Munoz argued that the bills "put children and their families at risk of bullying and discrimination and, according to one recent study, damage the mental wellbeing of young people who deserve love and support."
Truth and Accuracy
We are committed to truth and accuracy in all of our journalism. Read our editorial standards.
Comment Down Below
Conversation