News
Biden's Pose During Photo With NBA Team Sparks Awkward Reaction From Harris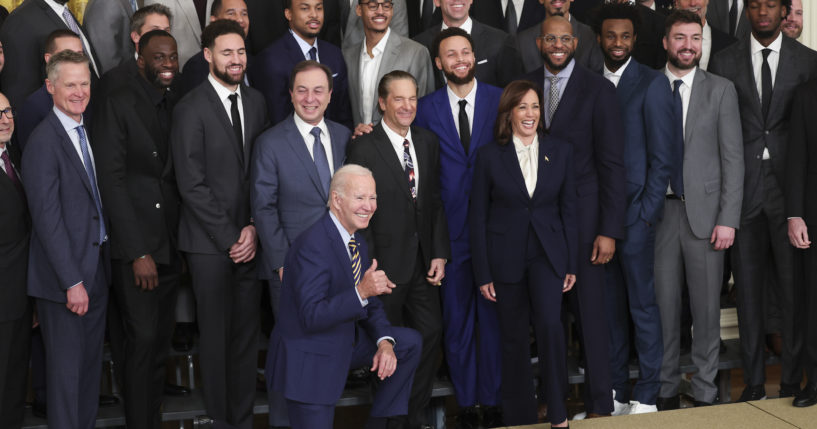 Vice President Kamala Harris had an awkward reaction as she and President Joe Biden took a photo with the Golden State Warriors.
During a White House event honoring the NBA team, Biden said, "I'll tell you what," as he knelt down in front of the team.
Harris had no interest in doing the same as she laughed and replied, "I'm not doing that."
Advertisement - story continues below
Following the photo, Biden stood up and awkwardly transitioned into a crouching position.
Watch the video below:
Joe Biden elicits a reaction from the Golden State Warriors after he drops to one knee in front of Kamala Harris for a picture with the team.

Harris indicates "I'm not doing that" as she remains standing pic.twitter.com/Dw4GgeYodh

— Charlie Spiering (@charliespiering) January 17, 2023
Another awkward moment took place when Biden called Harris "camela."
Advertisement - story continues below
Biden calls Kamala Harris "Camel-a"pic.twitter.com/sdtlHzqjfp

— Daily Wire (@realDailyWire) January 17, 2023
Celebrating the team's 2022 championship, Biden said at the event, "Today, the Golden State Warriors are known as one of the most successful franchises in basketball and all of sport. Four NBA titles, six finals in the last eight seasons. That ain't bad, man. A statline of a dynasty but the last couple of years are pretty tough."
He added, "They struggled in 2020, missed the playoffs in '21, and critics wonder (if) this team was gone for good as a championship team."
Biden continued, "But, fellas. I know what it feels like. I've been there."
Player Steph Curry alluded to former President Donald Trump's time in the White House and how the invitation to celebrate their championship with him at the White House was rescinded.
Advertisement - story continues below
"I think President Biden mentioned it during his speech, about you can accomplish anything if you do it together," Curry said.
He added, "And I think just the vibe is obviously different in the sense of accepting people from different walks, different backgrounds and actually walking that walk."
The president said Curry is "someone I really admire. Not just as a player but as a person."
Mentioning the players' activism, Biden said, "Speaking out against racism, standing up for equality. I mean speaking out loudly against racism standing up for encouraging people to vote, empowering children and their families to eat healthy, learn and play and safe places, rallying the country against gun violence."
Truth and Accuracy
We are committed to truth and accuracy in all of our journalism. Read our editorial standards.
Comment Down Below
Conversation