News
Boebert Claims Ilhan Omar Hung Up on Her During Phone Call About Controversial Remarks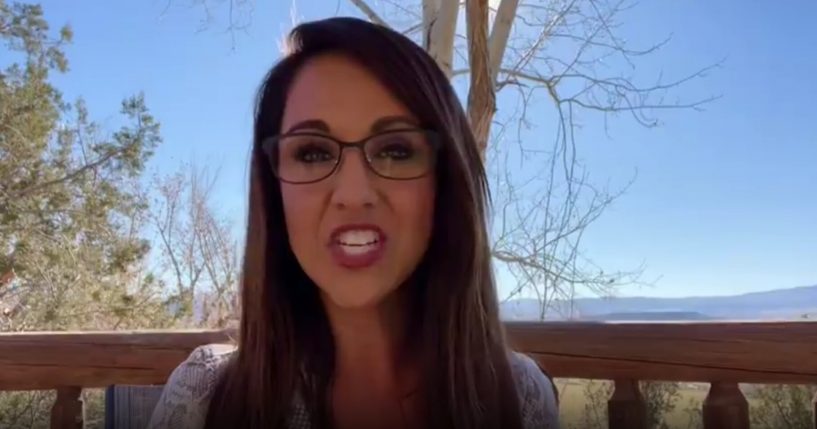 Rep. Lauren Boebert (R-Colo.) shared details of a phone conversation she had with Rep. Ilhan Omar (D-Minn.).
Boebert posted a video to Instagram Monday, saying she had a conversation with Omar about recent controversial remarks she made.
"Now as a strong, Christian woman who values faith deeply, I never want anything I say to offend someone's religion. So I told her that. Even after I put out a public statement to that effect, she said that she still wanted a public apology because what I had done wasn't good enough. So I reiterated to her what I had just said," Boebert said.
Advertisement - story continues below
She continued, "She kept asking for a public apology so I told Ilhan Omar that she should make a public apology to the American people for her anti-American, anti-Semitic, anti-police rhetoric. She continued to press and I continued to press back. And then, Representative Omar hung up on me." 
Boebert vowed to "fearlessly put America first, never sympathizing with terrorists."
"Ilhan can't say the same thing," she added.
Advertisement - story continues below
Omar also issued a statement following the conversation.
"Instead of apologizing for her Islamophobic comments and fabricated lies, Rep. Boebert refused to publicly acknowledge her hurtful and dangerous comments," Omar said.
She added, "She instead doubled down on her rhetoric and I decided to end the unproductive call."
Rep. Omar's statement on her conversation with Rep. Lauren Boebert. pic.twitter.com/B5JJVijXKI

— Rep. Ilhan Omar (@Ilhan) November 29, 2021
Advertisement - story continues below
Last week, a video went viral of Boebert sharing an allegedly false story about an encounter she had with Omar in an elevator at the U.S. Capitol, as IJR reported.
Boebert said she saw a Capitol police officer "running hurriedly to the elevator" with "fret all over his face."
She continued, "I look to my left, and there she is — Ilhan Omar. And I said, 'Well, she doesn't have a backpack. We should be fine.' So we only had one floor to go… I looked over and I said, 'Oh look, the jihad squad decided to show up for work today.'"
Omar tweeted in response, "Fact, this buffoon looks down when she sees me at the Capitol, this whole story is made up. Sad she thinks bigotry gets her clout."
Advertisement - story continues below
She added, "Anti-Muslim bigotry isn't funny [and] shouldn't be normalized. Congress can't be a place where hateful and dangerous Muslims tropes get no condemnation."
The Republican later took to Twitter to "apologize to anyone in the Muslim community I offended with my comment about Rep. Omar."
She concluded, "I have reached out to her office to speak with her directly. There are plenty of policy differences to focus on without this unnecessary distraction."
Truth and Accuracy
We are committed to truth and accuracy in all of our journalism. Read our editorial standards.
Comment Down Below
Conversation