News
Book Claims Melania Trump Believed Her Husband Was 'Blowing' His Response to COVID-19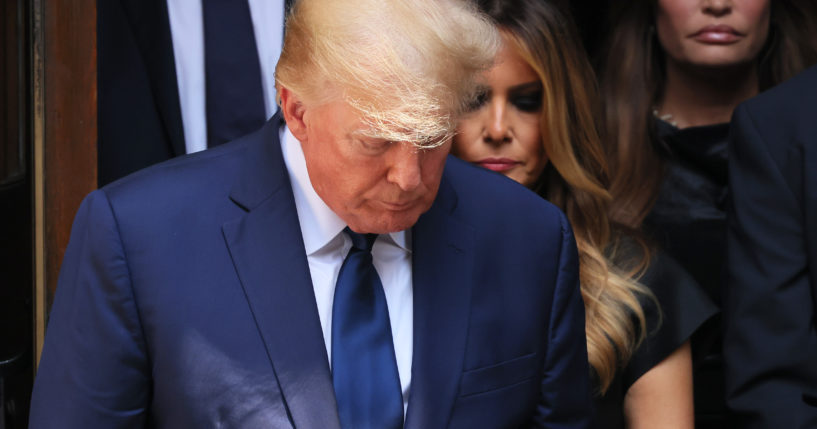 Former First Lady Melania Trump believed her husband, former President Donald Trump, was messing up his response to the COVID-19 pandemic, according to a new book.
CNN reported the claim was made in a forthcoming book from New York Times chief White House correspondent Peter Baker and New Yorker staff writer and CNN global affairs analyst Susan Glasser.
The authors wrote that Melania Trump was "rattled by the coronavirus and convinced that Trump was screwing up."
Advertisement - story continues below
She reportedly phoned former New Jersey Gov. Chris Christie asking him to help her with convincing the former president to take the pandemic more seriously.
"'You're blowing this," she recalled telling her husband," the authors wrote.
They continued, "'This is serious. It's going to be really bad, and you need to take it more seriously than you're taking it.' He had just dismissed her. 'You worry too much,' she remembered him saying. 'Forget it.'"
The book is titled "The Divider: Trump in the White House, 2017-2021" and is set to be published on Tuesday, as CNN reported.
Advertisement - story continues below
According to CNN, the reporting for the book included two interviews with Donald Trump at Mar-a-Lago.
The report comes just weeks after The Washington Post published an article titled, "Settling scores or telling truths? Trump-era memoirs reveal covid chaos."
Did Trump blow his response to COVID-19?
Former White House adviser Kellyanne Conway's memoir details her experience sharing her concern about the virus with Donald Trump.
"'Mr. President,' I said. 'I'm worried about the coronavirus,'" Conway wrote.
"I'm not," she recalled him saying.
Advertisement - story continues below
He reportedly added, "The doctors told us there is a very low risk for the United States." 
The Post reviewed more than 4,000 pages of memoirs "from tell-alls by senior health leaders to lesser-known books, such as an October 2021 memoir by former national security official Keith Kellogg — the picture that emerges is of an administration uniquely unsuited to meet the demands of a pandemic."
In December 2021, a congressional report declared that Donald Trump engaged in "deliberate efforts" to undermine the country's response to the outbreak for polical reasons.
Truth and Accuracy
We are committed to truth and accuracy in all of our journalism. Read our editorial standards.
Comment Down Below
Conversation