News
Book Explores Harris' Frustration With Biden Over Her Role As 'Border Czar'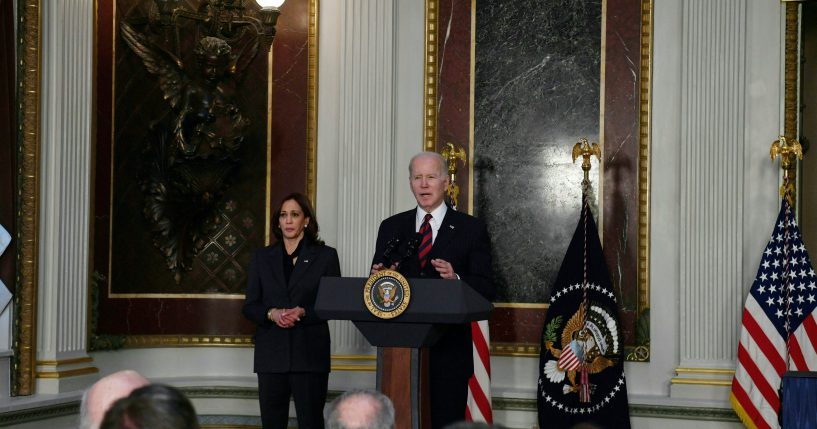 Vice President Kamala Harris grew frustrated with President Joe Biden for giving her the task of "border czar," according to a forthcoming book.
Politico reported on an excerpt from the book titled, "This Will Not Pass: Trump, Biden, and the Battle for America's Future," where the authors pointed out the role was "seen by Harris' staff as politically undesirable."
Authors Alexander Burns and Jonathan Martin wrote, "Harris was resigned to the assignment," adding that she did not want to be labeled as "border czar."
Advertisement - story continues below
They noted Harris "did not hesitate to chide Biden for characterizing her assignment in those terms."
According to the excerpt, the authors mentioned a meeting with the Congressional Black Caucus in April where Biden "heaped praise on Harris but also said he'd given her the important task of handling immigration and that she would do 'a hell of a job,'" as Politico reported.
Burns and Martin reported Harris "corrected him at once."
They continued, "Excuse me, she said, it's the Northern Triangle — not immigration."
Advertisement - story continues below
The Northern Triangle consists of Guatemala, Honduras, and El Salvador.
Fascinating exclusive from @AlexThomp in tonight's @politico West Wing Playbook about the dynamic between #Biden and VPOTUS #KamalaHarris and their staffs, as reported in new a new book by @nytimes reporters @jmartNYT & @alexburnsNYT.https://t.co/YBcXfNXKM9

— Devon Heinen (@DevonHeinen) March 22, 2022
Biden announced Harris would be leading efforts to stem migration across the U.S.-Mexico border in March 2021. She visited the border months later following criticism from Republicans for not visiting sooner.
Still, Harris received criticism from Republicans, including Texas Gov. Greg Abbott (R).
"Harris is ignoring the real problem areas along our southern border that are not protected by the border wall and are being overrun by the federal government's ill-thought-out open-border policies," Abbott said.
Advertisement - story continues below
In July 2021, Harris released a strategy to address illegal immigration.
"In Central America, the root causes of migration run deep — and migration from the region has a direct impact on the United States," Harris said.
She added, "For that reason, our nation must consistently engage with the region to address the hardships that cause people to leave Central America and come to our border."
The New York Times noted in January Harris attended the presidential inauguration of Xiomara Castro in Honduras. The White House is hopeful she can help address the root causes of the migration.
Truth and Accuracy
We are committed to truth and accuracy in all of our journalism. Read our editorial standards.
Comment Down Below
Conversation