News
Border Arrests Hit Highest Level Ever Recorded: Report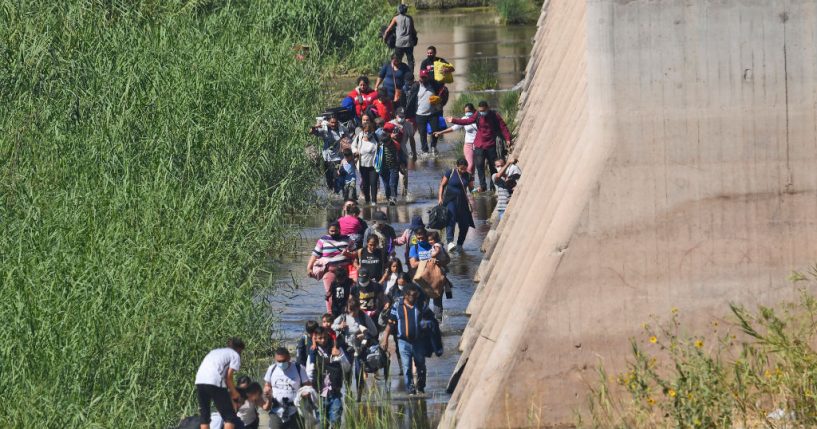 The 2021 fiscal year reportedly saw an all-time record for the number of migrants who were detained while trying to cross the U.S-Mexico border.
According to a report in The Washington Post, more than 1.7 million migrants were detained while trying to cross the border in the 2021 fiscal year, which ended in September.
As the Post notes, "Arrests by the Border Patrol soared to the highest levels ever recorded, according to unpublished U.S. Customs and Border Protection data."
Advertisement - story continues below
Republicans argue that President Joe Biden sparked the surge in immigration by moving to reverse his predecessor's strict immigration policies. Additionally, some Haitian migrants said they decided to travel to the U.S. border because they believed Biden let them stay in the country.
While Biden said during the transition that it would take months to reverse Trump's immigration policies, he moved quickly once in office to stop construction of the border wall, end the "Remain in Mexico" policy, implement a 100-day pause on deportations, and roll back other asylum restrictions.
In June, months into the migration surge, Vice President Kamala Harris told potential migrants in Guatemala, "Do not come."
"The United States will continue to enforce our laws and secure our border," she added.
Advertisement - story continues below
Harris said the Biden administration wanted to focus on the "root causes" of immigration and "help Guatemalans find hope at home."
Still, the number of migrants crossing the border hit a 21 year high in July and dipped slightly in August.
The Associated Press reported in September that Haitian migrants who had gathered at a border town in Texas to seek asylum were being released into the U.S. with notices to appear at an immigration office on a "very, very large scale."
Department of Homeland Security (DHS) Secretary Alejandro Mayorkas, however, said at the time, "If you come to the United States illegally, you will be returned, your journey will not succeed, and you will be endangering your life and your family's life."
The AP notes that there was a "massive effort to expel Haitians on flights to Haiti under pandemic-related authority that denies migrants an opportunity to seek asylum."
Advertisement - story continues below
Still, DHS told the outlet that migrants who were not immediately processed "may" be detained or released with a notice to appear at an immigration office.
In a court filing on Thursday, the Biden administration said it is "taking necessary steps to comply" with a court order that required it to implement the "Remain in Mexico" policy.
That policy requires asylum seekers to wait outside the U.S. while their claims are processed. However, the administration can not enforce the policy unless Mexico agrees to let asylum seekers stay within its borders until their cases are processed.
As the Post notes, "The policy was conceived by Trump officials as a way to prevent border-crossers from being released into the United States — and avoiding deportation — by making asylum claims."
Truth and Accuracy
We are committed to truth and accuracy in all of our journalism. Read our editorial standards.
Comment Down Below
Conversation