News
California High School Teacher Promotes 'Queer Library' Featuring Adult Materials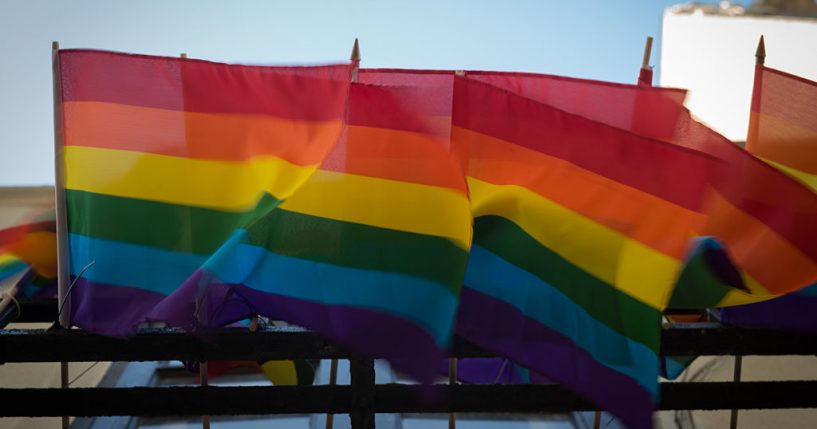 WARNING: This article contains sexually explicate subject matter
A California teacher has posted to social media about the "queen library" with books containing content about orgies, sex parties, and BDSM available to students.
The Capistrano School District teacher from San Juan Hill High School, identified on the school's website as Danielle Serio, talked about books on videos posted to TikTok, according to Fox News.
Advertisement - story continues below
The teacher, known as "Flint," has been active in the high school for five years and is offering books such as "Juliet Takes a Breath" by Gabby Rivera, which reportedly contains graphic imagery of sex between women. 
Another book offered by Flint is called "This Book is Gay" and talks about hookup culture, including sites like "Grindr" and includes information about anal and "girl on girl" sex, allowing children to read content many consider to be distinctly adult in nature.
"We all want to have sex with loads of people," the book states. "[T]he prostate gland… feels amazing when massaged. Lots of men, gay or straight, like how this feels."
Another quote from the book encourages, "Let's talk about dildos: I think a lot of people assume that where there is no penis, a desperate sexual void is created, out of which something [bleep] shaped must ultimately slot in order to satisfy," the book continued. "I've only ever slept with two women who enjoyed using dildos. I hate wearing a strap-on. I've only ever done it once and NEVER AGAIN!"
Advertisement - story continues below
According to The Washington Examiner, Serio has more than 144,000 followers on TikTok but has set her account to private.
The book, "Everything you Ever Wanted to Know About Being Trans…" reportedly discusses BDSM, various fetishes, and introduces students to a kink social media networking site. 
A quote from the book states, "I find the BDSM/kink community to be extremely open-minded and welcoming in every way; it's a place of sexual liberation.
"There is often more blanket level of acceptance of transgender people within the kink/BDSM (bondage and discipline, dominance and submission, sadism and masochism) scenes and sites such as FetLife," the material offered to high school students goes on.
The site introduced, FetLife is a site known to be a "kink community" where there are people "who have already opened themselves up to a greater range of romantic and erotic possibilities and transgender often just adds to the smorgasbord," according to a quote from the book.
Advertisement - story continues below
The Capistrano Unified School District school board recognized Serio in 2017 for her library in a school board meeting, according to the Examiner.
"Not only does Danielle work with LGBTQ students on a daily basis, she is involved with the education of our staff as well. Danielle was successful in proposing updates to our district's non-discrimination policy, AB-1266, and spoke on behalf of all CUSD transgender students at a board meeting," the board said of Serio in a 2017 Facebook post. "Thanks to her time and heart, our board policy now includes protections for marginalized LGBTQ students." 
Serio interviewed Dr. Manoj Mahindrakar, the principal of her school, in a recent TikTok about his thoughts on the Library where the principal said, "In my educational experience, books are always a good thing, and any books that support our students, I'm for."
Truth and Accuracy
We are committed to truth and accuracy in all of our journalism. Read our editorial standards.
Comment Down Below
Conversation