News
'Anti-Semitic Space Lasers': Cheney Fires Back at Greene on the House Floor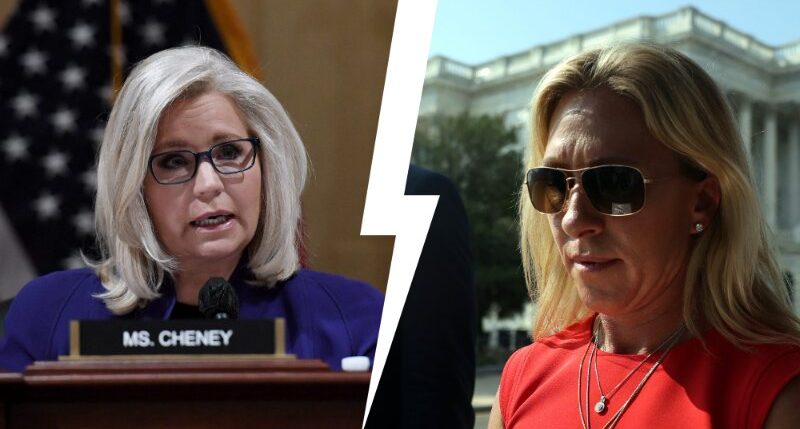 Reps. Liz Cheney (R-Wyo.) and Marjorie Taylor Greene (R-Ga.) went back and forth on the House floor during a vote to hold Steve Bannon in criminal contempt.
According to CNN, Greene accused Jamie Raskin (D-Md.) of not investigating violence associated with Black Lives Matter protests.
Greene said in a loud voice, "This is a joke."
Advertisement - story continues below
She approached Raskin, asking, "Why don't you care about the American people?"
He responded, "You represent the American people."
As the outlet notes, video of the House floor shows Greene approaching Raskin and Cheney without audio. The report continues, "Greene waves her hands in the air, and at one point Cheney points her finger in the air back at Greene before turning her back."
Cheney went on to call Greene a "joke." She also suggested Greene focus on "anti-Semitic space lasers," as CNN reports.
Advertisement - story continues below
Greene fired back, "I never said that! You're done. You're a joke, Liz. Your party rejected you," according to CNN. Greene then asked the pair as she walked away, "Why don't you go investigate something that matters to the American people?"
Wanna know alll the drama that happened on the House floor, with all the pointing and yelling and space lasers? Here you go, w/ @AnnieGrayerCNN @MZanona 👇🏻 pic.twitter.com/GxbFRXhx2T

— Kristin Wilson (@kristin__wilson) October 21, 2021
One of Greene's Facebook posts re-emerged recently showing she suggested in 2018 the California wildfires may have been caused by some kind of "space laser."
She spoke out about the exchange with the two other lawmakers in a statement to The Hill.
"I told them they're a joke. This whole thing is a waste. They don't care about the American people, the national security crisis at the border, our nearly $30 trillion debt," Greene said. "They don't care about all the jobs people are losing. They don't care about the walkouts with vaccine mandates."
Advertisement - story continues below
She also claimed they "just want to go on and on about the riot and then lie to everyone and call it an insurrection."
The House voted to hold Bannon, a longtime ally of former President Donald Trump, in contempt of Congress after he defied a subpoena from the January 6 committee.
Truth and Accuracy
We are committed to truth and accuracy in all of our journalism. Read our editorial standards.
Comment Down Below
Conversation