News
Liz Cheney to GOP Colleagues: 'You All Know' Election Fraud Claims 'Are False'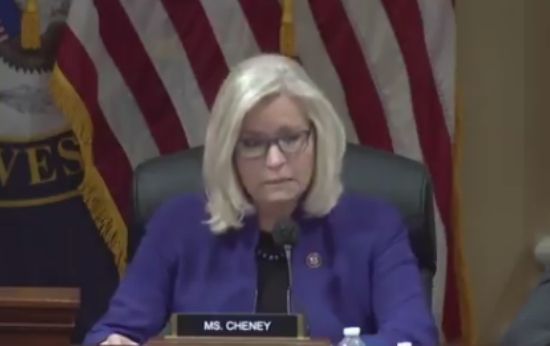 Rep. Liz Cheney (R-Wyo.) is calling out her Republican colleagues over claims about the 2020 presidential election.
Cheney is a member of the House select committee investigating the U.S. Capitol riot on January 6. During Tuesday evening's hearing, she torched former President Donald Trump's repeated claims of widespread election fraud in the 2020 presidential election.
"We all agree that America is the greatest nation on the face of God's Earth. Truth, justice, and our Constitution have made America great," she said in a message to her Republican colleagues.
Advertisement - story continues below
The Wyoming senator added, "Almost every one of my colleagues knows in your hearts that what happened on January 6th was profoundly wrong." She continued:
"You all know that there is no evidence of widespread election fraud sufficient to have changed the results of the election. You all know that the Dominion voting machines were not corrupted by a foreign power. You know these claims are false."
Watch the video below:
STEVE BANNON: At tonight's Jan. 6 Select Committee hearing, Rep. Liz Cheney (R-WY) supported holding Bannon in contempt, and also slammed former Pres. Trump's repeated false 2020 election claims, stating his rhetoric on voting is a "prescription for national self-destruction." pic.twitter.com/09H6V2vaFM

— Forbes (@Forbes) October 20, 2021
Advertisement - story continues below
Cheney added:
"I ask my colleagues, please consider the fundamental questions of right and wrong here. The American people must know what happened. They must know the truth. All of us who are elected officials must do our duty to prevent the dismantling of the rule of law, and to ensure that nothing like that dark day in January ever happens again."
Prior to those remarks, Cheney expressed support for holding former White House strategist Steve Bannon in contempt of Congress after he defied a congressional subpoena.
"Based on the committee's investigation, it appears that Mr. Bannon had substantial advance knowledge of the plans for January 6th and likely had an important role in formulating those plans," she said. "Mr. Bannon was in the war room at the Willard on January 6th. He also appears to have detailed knowledge regarding the president's efforts to sell millions of Americans the fraud that the election was stolen."
Additionally, Cheney said, "Mr. Bannon and Mr. Trump's privilege arguments … appear to reveal one thing. They suggest that President Trump was personally involved in the planning and execution of January 6th. And this committee will get to the bottom of that."
Advertisement - story continues below
The House of Representatives is expected to vote on Thursday to hold Bannon in contempt. Additionally, on Tuesday, the House select committee voted "to refer Bannon to the Justice Department for criminal charges in response to his refusal to speak with the committee," The Hill reports.
Truth and Accuracy
We are committed to truth and accuracy in all of our journalism. Read our editorial standards.
Comment Down Below
Conversation