News
Clyburn: Not Sure Dems 'Have Yet Developed the Will To Win in 2022'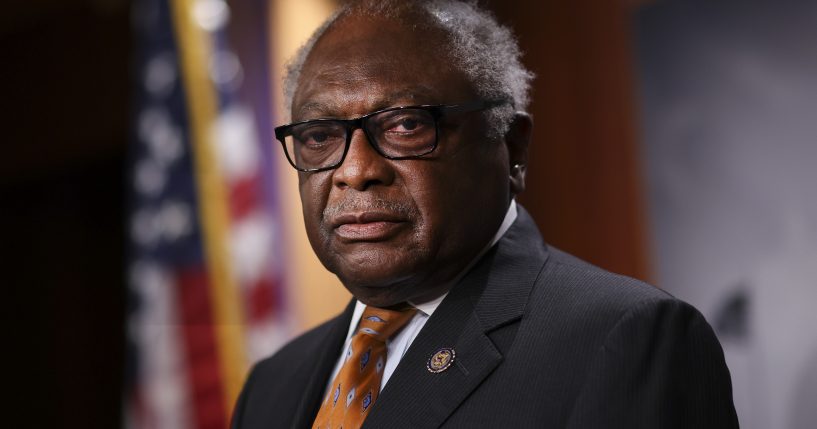 House Majority Whip Jim Clyburn (D-S.C.) is "not too sure" Democrats will maintain majorities in the House and Senate in 2022.
Clyburn told a virtual audience from the Charleston Jewish Federation, "We are not going to do what we need to do next year until we build enough intestinal fortitude to start operating a little outside or beyond our comfort zones."
He continued, "We're not there yet. I'm hopeful that we can get there. Will we ever get there? That remains to be seen."
Advertisement - story continues below
Clyburn said he believes Democrats can but is "not sure" they will, adding, "My dad used to say to me all the time, 'Wherever there is a will, there is a way.' I'm not too sure that Democrats have yet developed the will to win in 2022."
Jewish Insider noted Clyburn acknowledged the current ideological divisions among Democrats as threats to their majorities.
"Progressives have got to feel like they can take a chance on moderates. Get outside of their comfort zone. Moderates have got to feel the same way about progressives," Clyburn said.
He explained, "And between those two, you've got the New [Democrats], you've got the Congressional Black Caucus, you've got the Congressional Hispanic Caucus, you've got the Asian and Pacific Islanders, all of us operating within our comfort zone."
Advertisement - story continues below
The moderator asked Clyburn about the infrastructure and spending bills. He replied, "We ain't there yet."
Additionally, Clyburn argued the United States is "not doing enough" to address antisemitism, racism and other issues.
"Elections unfortunately are decided sometimes by one misstep, one misspoken piece," Clyburn said.
He added, "I don't think you're going to solve this problem with elected officials. I think that the forces outside the electoral process are the forces that it's going to take to solve this problem because we just have to stop tolerating certain things… [We've] got to stop tolerating and stop making excuses. And we do it on both sides of this issue."
The Washington Post reported on Thursday the White House unveiled a new $1.7 trillion package. The president is expected to visit Capitol Hill to address House Democrats.
Truth and Accuracy
We are committed to truth and accuracy in all of our journalism. Read our editorial standards.
Comment Down Below
Conversation