News
CNN: Republicans Are in the 'Best Position' Ahead of Midterms in Over 80 Years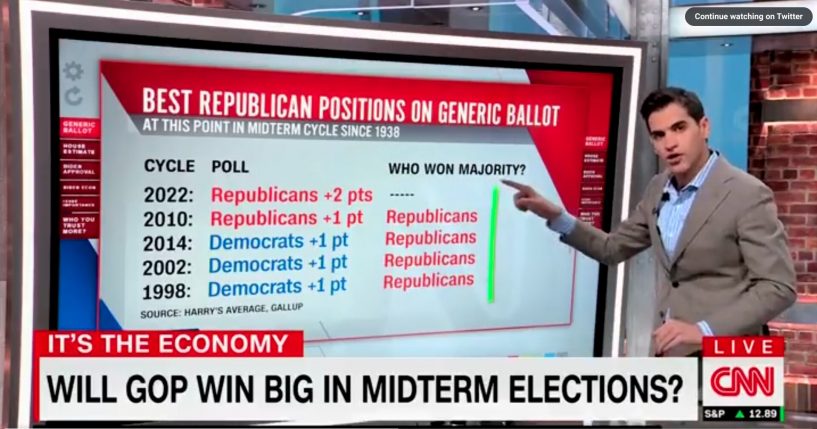 It is still months away from the 2022 midterm elections, but Republicans appear to be in their strongest electoral position in decades.
CNN's Jake Tapper kicked off a segment of his show on Monday by noting that "things are looking pretty good" for Republican candidates.
Senior data reporter Harry Enten said, "I would say they're looking very good from the historical context."
Advertisement - story continues below
Enten explained that he reviewed polls going back to 1938 from this point in the midterm cycle, that asked respondents if they would vote for a "generic" Republican or Democrat.
He noted that Republicans currently hold a two-point lead over Democrats, which is "the best position for Republicans at this point in any midterm cycle in over 80 years."
"It beats 2010 when Republicans were up a point. It beats '14, 2002, 1998 where Democrats led by a point. And in all of those four prior examples that make this list of the top five, who won a majority? It was the Republicans," Enten said.
Watch the video below:
Advertisement - story continues below
Data points to a November blowout, CNN's Harry Enten say, telling Jake Tapper that the GOP is currently in "the best position for Republicans at this point in any midterm cycle in over 80 years." pic.twitter.com/V3vevMlIXJ

— Virginia Kruta (@VAKruta) June 7, 2022
Enten went on to predict that if the election was held today, Republicans would end up with between 236 and 241 seats in the House. Meanwhile, he predicted that Democrats would be left with 194 and 199 seats — still, he noted that "history isn't always prologue."
Do you think Republicans will win the House?
Tapper chimed in, "That would be a stomping."
"A lot of the Democrats' problems, it seems, can be linked back to the president, who is severely underwater," he added.
According to an ABC News/Ipsos poll, 28% of Americans approve of Biden's handling of inflation, 27% approve of his handling of gas prices, 38% approve of his handling of crime, 35% approve of his handling of gun violence, and 41% approve of his handling of abortion issues.
Advertisement - story continues below
One issue where Biden is above water is his handling of the COVID-19 pandemic.
ABC News political director Rick Klein said on Sunday, "What you're seeing is President Biden is a serious drag on Democratic candidates nationwide."
He explained, "It's driven by his approval rating on a range of issues. He is badly underwater on all of the top issues, including the big ones: inflation, gas prices."
"[Biden] is less than 30% approval rating on the issues that we're told by voters are dominating their state of mind. Even on issues like gun violence, abortion rights, issues that he is elevating into the conversation in recent weeks, he is still significantly underwater," Klein added.
Truth and Accuracy
We are committed to truth and accuracy in all of our journalism. Read our editorial standards.
Comment Down Below
Conversation