News
Colin Powell, Former Secretary of State, Dies at 84 Due to COVID Complications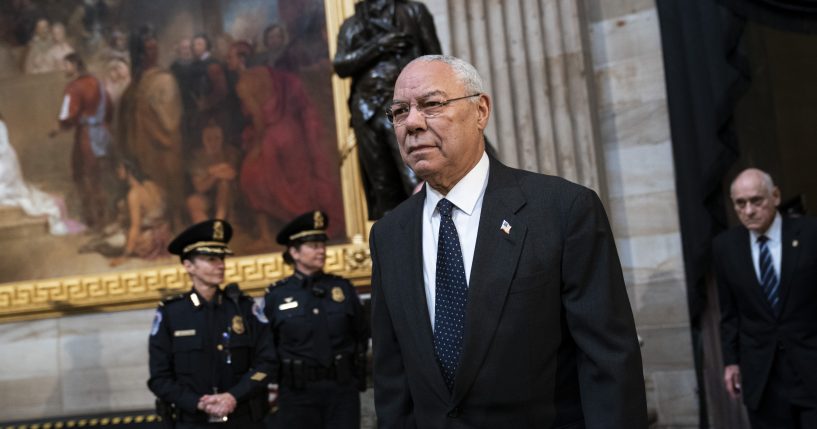 Colin Powell, the first Black man to serve as secretary of state, died due to complications from COVID-19.
The former chairman of the Joint Chiefs of Staff and national security adviser was 84. His family announced the news in a statement posted on Facebook.
"General Colin L. Powell, former U.S. Secretary of State and Chairman of the Joint Chiefs of Staff, passed away this morning due to complications from Covid 19. He was fully vaccinated," his family wrote.
Advertisement - story continues below
The statement continues, "We want to thank the medical staff at Walter Reed National Medical Center for their caring treatment. We have lost a remarkable and loving husband, father, grandfather and a great American."
As CNN reports, "A source familiar with the matter said Powell had multiple myeloma, a cancer of plasma cells that suppresses the body's immune response. Even if fully vaccinated against Covid-19, those who are immunocompromised are at greater risk from the virus."
Powell was sworn in as secretary of state under former President George W. Bush in 2001. He said during his Senate confirmation hearing, "I think it shows to the world what is possible in this country."
Advertisement - story continues below
He added, "It shows to the world that: Follow our model, and over a period of time from our beginning, if you believe in the values that espouse, you can see things as miraculous as me sitting before you to receive your approval."
Powell later went on to endorse former President Barack Obama in the last few weeks of his 2008 campaign.
UPDATE [10/18/21, 11:25 a.m. EST]:
IJR added information from CNN citing that Powell was battling cancer.
Truth and Accuracy
We are committed to truth and accuracy in all of our journalism. Read our editorial standards.
Comment Down Below
Conversation