News
Congress Launching Investigation Into John Kerry's Secret Negotiations With Chinese Communist Part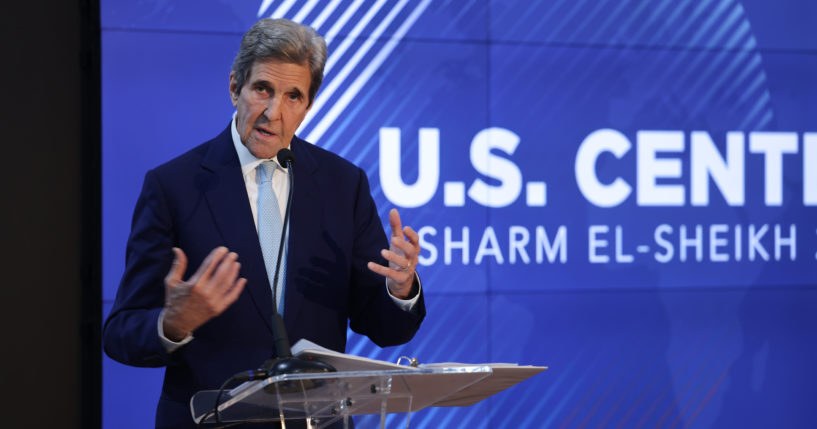 House Republicans are launching an investigation into Special Presidential Envoy for Climate (SPEC) John Kerry's secretive negotiations with the Chinese Communist Party.
House Oversight and Accountability Committee Chairman James Comer (R-KY) penned a letter to Kerry informing him of the investigation.
"The Committee on Oversight and Accountability is investigating your role in the Biden Administration and the nature of your negotiations with the Chinese Communist Party. In the 117th Congress, we requested information from you regarding your position as special presidential envoy for climate (SPEC)—a cabinet-level position that does not require Senate confirmation despite your apparent ability to bind the United States to international agreements —and SPEC employees' ties to outside organizations," Comer wrote.
Advertisement - story continues below
He added, "To date, you have failed to respond to any of our requests. Yet, you continue to engage in activities that could undermine our economic health, skirt congressional authority, and threaten foreign policy under the guise of climate advocacy."
Comer told Kerry the committee "requests documents and information to understand your role and provide necessary transparency over the SPEC and its activities."
The letter argues, "As a member of the President's cabinet, you should be representing the United States' interests. Your statements, however, consistently show disregard for American national security and taxpayer dollars."
Comer claimed Kerry's office "continues to ignore requests for information. We are left with an insufficient understanding of your office's activities, spending, and staffing."
Advertisement - story continues below
Check out Comer's message to Kerry below:
🚨@RepJamesComer calls on Special Presidential Envoy for Climate John Kerry to provide information about his secret negotiations that undermine American interests.

Americans need transparency about his office's staffing, spending, and activities.https://t.co/rEn4D7mFrq

— Oversight Committee (@GOPoversight) February 2, 2023
The letter also accuses Kerry of continuing "to downplay the CCP's human rights violations and its antagonism against the U.S. while promoting climate negotiations that the CCP does not even appear interested in entering."
Politico noted Republicans have previously expressed their criticism of Kerry and his handling of China.
They have also vowed, if they claimed the majority, they would increase oversight over him and the rest of his office, the outlet pointed out.
Advertisement - story continues below
According to Politico, Republicans on the Foreign Affairs committee have also promised to look into Kerry's current activities.
Kerry was appointed to the position after Biden took office in 2021.
Truth and Accuracy
We are committed to truth and accuracy in all of our journalism. Read our editorial standards.
Comment Down Below
Conversation