News
Conservative Commentator Diamond's Cause of Death Revealed: Report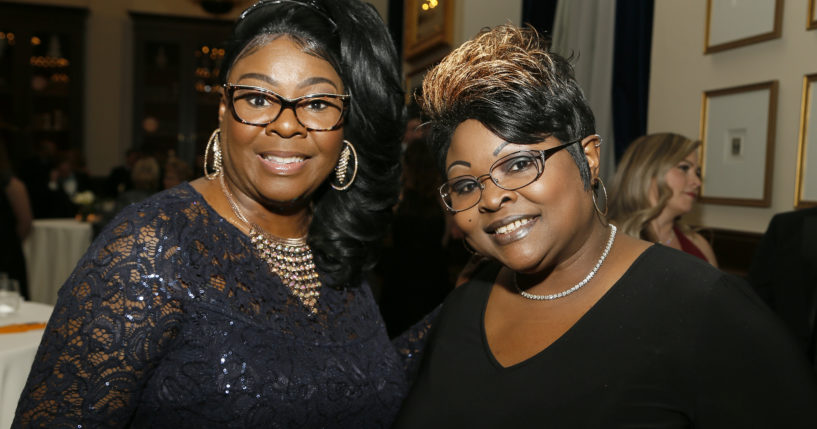 Lynette Hardaway, also known as conservative commentator "Diamond," recently died and her cause of death has been revealed, according to a report.
The Associate Press obtained Hardaway's death certificate Monday and reported she died of heart disease due to chronic high blood pressure.
The outlet noted COVID-19 was a suggested cause of death by several on social media.
Advertisement - story continues below
However, the virus was not listed as a cause or contributor of her death.
The Hoke County Register of Deeds provided The Associated Press with the certificate.
It was reportedly signed by a local doctor.
According to the report, an autopsy was not performed on Hardaway.
Advertisement - story continues below
She was 51 years old when she died on Jan. 8.
Hardaway and her sister, Rochelle "Silk" Richardson, were discovered for their support of former President Donald Trump during the 2016 presidential election.
Last week, the official Twitter account for the duo shared a message from Trump announcing an event to celebrate Hardaway's life.
"The world lost an angel and true friend, Lynette 'Diamond' Hardaway. She was great. Diamond lived her life founded on passion and love for all of humanity. The legacy she leaves behind will forever remain in our hearts; she was a really great person," Trump said in the video message.
He added, "She lived [life] in a credible way, and we're going to have a wonderful celebration and ceremony … they were with me from the beginning and they never waivered."
Advertisement - story continues below
"Message From President Trump"
This Saturday, in North Carolina, we're going to celebrate the life of Lynette "DIAMOND" Hardaway who was a true patriot and a friend. See you there! RSVP Here: https://t.co/9uYF62Eq9X pic.twitter.com/5QKPSQpZ71

— Diamond and Silk® (@DiamondandSilk) January 18, 2023
Richardson recently shared what took place prior to Hardaway's death.
"As soon as Diamond hung up the phone, she said to me, 'I can't breathe,'" Richardson said.
She continued, "It was sudden, out of nowhere, and no warning. I got her to the kitchen table, opened up the back door, so that she could get some air. And each breathe was less and less and less until her eyes became a stare."
Advertisement - story continues below
Richardson recalled conducting CPR on Hardaway along with her husband.
"My husband and I alternated and kept going and going and going," until EMS arrived, Richardson said.
She added, "They did everything that they could."
Truth and Accuracy
We are committed to truth and accuracy in all of our journalism. Read our editorial standards.
Comment Down Below
Conversation