Commentary
Conservative Radio Host Dismisses Walker Abortion Story: 'I Want Control of the Senate'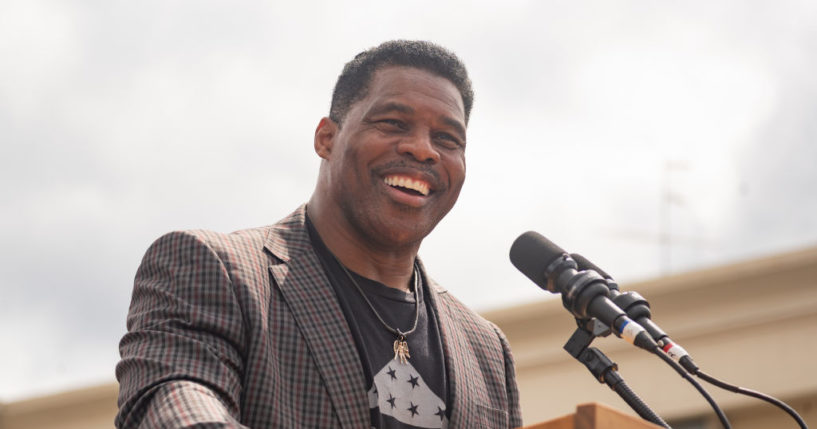 Amid a bombshell report about Georgia Republican Senate candidate Herschel Walker involving abortion, conservatives are rallying around him, hoping to rescue what could be one of their best pickup opportunities.
Conservative radio host Dana Loesch says she wouldn't care if Walker paid for baby eagles to be killed; she would still want him to be elected.
"Does this change anything?" Loesch asked rhetorically on Tuesday.
Advertisement - story continues below
She responded, "Not a damn thing. How many times have I said four very important words — these four words: winning is a virtue."
Loesch went on:
"What I am about to say is in no means a contradiction or a compromise of a principle. And please keep in mind that I am concerned about one thing and one thing only at this point. So I don't care if Herschel Walker paid to abort endangered baby eagles, I want control of the Senate. If the Daily Beast story is true, you're telling me Walker used his money to reportedly pay some skank for an abortion. And [Sen. Raphael Warnock (D-Ga.)] wants to use all of our monies to pay a whole bunch of skanks for abortions."
Finally, she added, "And yes, when they're used predominantly over 99% of birth control, and it's my taxpayer dollars, you have invited me up in your business, and I will use whatever descript I would like to. Thank you… I don't know if he did it or not. I don't even care."
Advertisement - story continues below
Listen to her comments below:
Conservative radio host Dana Loesch: "I am concerned about one thing, and one thing only, at this point. So I don't care if Herschel Walker paid to abort endangered baby eagles — I want control of the Senate." pic.twitter.com/7sdjVjidS8

— Sahil Kapur (@sahilkapur) October 5, 2022
Do you think Republicans should back Walker still?
Her comments come after the Daily Beast reported Walker paid for a girlfriend to get an abortion in 2009 — something he has vehemently denied. The outlet was reportedly provided a personal check from Walker and a get well card.
That allegation, which came just three days in October, has raised concerns Republicans might lose the Georgia race — which was one of their best shots at flipping a Senate seat.
Without Georgia, Republicans would need to hold onto Ohio, Wisconsin, North Carolina, and Pennsylvania — where Republican Senate candidate Mehmet Oz is trailing his Democratic opponent but appears to be closing the gap — if they want to have a hope of flipping the upper chamber. If they hold those seats and flip Nevada, where Republican Adam Laxalt is leading in FiveThirtyEight's average of polls, they would win the Senate.
Advertisement - story continues below
There have been conservatives who have responded similarly to Loesch and argued control of the Senate is more important than a story from 2009. The logic goes that Democrats would pass extreme bills vastly expanding abortion access if they kept control of the Senate, so they can overlook this part of Walker's past.
But there are four factors they ignore. One, if the story is true and Walker denied it and threatened a lawsuit, that does not speak well of his character. Why wouldn't he own it and say, "I made a grave mistake in 2009. It is something I'm ashamed of and deeply regret. And I have since come to realize how wicked abortion is." If the story is false and the alleged evidence is fabricated, then the denial is just.
The other factor conservatives seem to be ignoring is Walker's son, Christian Walker, taking to Twitter to excoriate his father. Christian Walker has previously been supportive of his father's campaign and is a conservative star on TikTok. So it's not likely he's some Democratic plant. Granted, we do not know the dynamics of their relationship, but it's hard to simply dismiss Christian's comments.
Yet another factor is that regardless of what happens in the Senate, Republicans are favored to win the House which would blow a hole in Democrats' ability to advance their agenda.
Advertisement - story continues below
And the fourth factor is even if Republicans blow their 2022 Senate chances, the 2024 Senate map provides some pickup opportunities for them in states such as West Virginia and Montana — conservative states that have Democratic senators.
The urge to stop Democrats' reckless spending and crazy social policies is understandable. But in a year when there are a couple of fail-safes, is it really worth blanketly supporting Republicans regardless of their character?
Truth and Accuracy
We are committed to truth and accuracy in all of our journalism. Read our editorial standards.
Comment Down Below
Conversation