News
Cost for Taxpayers Revealed if Biden Were to Forgive $10K in Student Debt Relief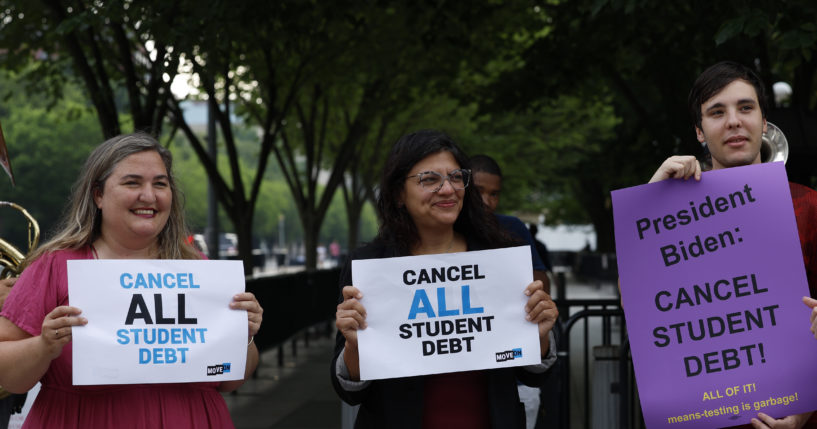 President Joe Biden is reportedly set to forgive thousands in student loan debt and an analysis revealed how much it would cost taxpayers.
On Tuesday, Fox News reported that Biden is expected to forgive $10,000 in student loans for borrowers who make less than $125,000 per year.
According to an analysis from the University of Pennsylvania's Wharton School, the plan will cost taxpayers $300 billion.
Advertisement - story continues below
"This cost increases to $330 billion if the program is continued over the standard 10-year budget window. Eliminating the borrower income limit threshold produces a 10-year cost of $344 billion," the analysis adds.
The analysis also explains, "Between 69 and 73 percent of the debt forgiven accrues to households in the top 60 percent of the income distribution."
Additionally, the analysis suggested that if the loan forgiveness is ongoing, "Students might eventually reorganize their financing toward additional borrowing."
The analysis continues, "Moreover, more students might choose to attend qualifying education providers, including students who might otherwise have a harder time with repayment. The inclusion of these two effects could, to some extent, make the program a bit more progressive while increasing budgetary costs."
Advertisement - story continues below
Another effect of the program could be that "some of the benefit from debt forgiveness might be captured by colleges themselves in the form of higher prices (both tuition and net)."
Earlier this month, the Committee for a Responsible Federal Budget published an article titled, "Cancelling Student Debt Would Undermine Inflation Reduction Act."
Will this program "enhance reckless decisions"?
The committee noted that the legislation will reduce budget deficits by roughly $275 billion and assist the Federal Reserve in combating inflation.
However, the student loan cancellation could "undermine the bill's disinflationary gains and deficit reduction."
🚨ANALYSIS🚨 – If the @POTUS cancels student debt, it will wipe out virtually ALL of the fiscal and inflationary gains from the Inflation Reduction Act. https://t.co/gNGQsq5vqd pic.twitter.com/A5ZZvIUhVU

— Marc Goldwein (@MarcGoldwein) August 16, 2022
Advertisement - story continues below
Sen. Kevin Cramer (R-N.D.) is one of the lawmakers speaking out against the program.
During an interview with Fox News, Cramer explained, "The loan forgiveness suggestion in my mind would create so many perverse incentives starting with the increase of tuition costs."
He continued, "This is what an oversupply of money in a low-demand market creates, it creates inflation."
Cramer suggested if that first $10,000 is forgiven for borrowers, "That enhances reckless decisions."
Advertisement - story continues below
The senator argued that "we ought to have people making more thoughtful decisions, applying good economic principles as well as personal circumstances."
Truth and Accuracy
We are committed to truth and accuracy in all of our journalism. Read our editorial standards.
Comment Down Below
Conversation