Commentary
Dems, Republicans Are Falling Into Familiar Traps After Uvalde Shooting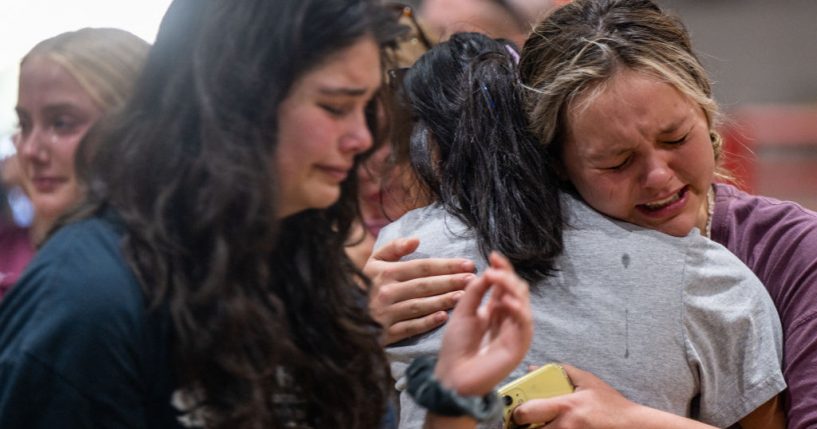 It has been nearly a decade since the shooting at Sandy Hook Elementary School.
And yet, here we are again with another horrific school shooting in Uvalde, Texas, marking the second-deadliest elementary school shooting in U.S. history, with 19 children and two adults killed.
In the nearly 10 years since Sandy Hook, what have our leaders done to prevent such tragedies? What has our media down to facilitate a serious conversation around measures to prevent them?
Advertisement - story continues below
They are failing some of our youngest and most vulnerable members of society over and over again. It is sickening. 
Shortly after the Uvalde shooting, it seemed fairly clear that the all too familiar battle lines were already drawn.
Rep. Ruben Gallego (D-Ariz.) tweeted on Tuesday, "Just to be clear f*** you [Ted Cruz] you f****** baby killer."
Just to be clear fuck you @tedcruz you fucking baby killer.

— Ruben Gallego (@RubenGallego) May 24, 2022
Advertisement - story continues below
Former President Barack Obama tweeted this:
We're also angry for them. Nearly ten years after Sandy Hook—and ten days after Buffalo—our country is paralyzed, not by fear, but by a gun lobby and a political party that have shown no willingness to act in any way that might help prevent these tragedies.

— Barack Obama (@BarackObama) May 25, 2022
Do you think anything will be done after this shooting?
Meanwhile, President Joe Biden decided to deliver remarks before we even knew the total death toll of the shooting and many other details.
He had the ability to be the uniter he campaigned as, but instead, he took a detour to yell about the gun lobby and thus alienate conservatives.
Other liberals have gone so far as to suggest repealing the Second Amendment.
Advertisement - story continues below
But conservatives have not been any better in their opposition to additional gun control measures.
Our nation needs to take a serious look at the state of mental health today.

Sometimes meds can be the problem.

America is failing our youngest generations from decades of rejecting good moral values and teachings.

We don't need more gun control.

We need to return to God.

— Rep. Marjorie Taylor Greene🇺🇸 (@RepMTG) May 24, 2022
And on Tuesday, Fox News featured a parade of guests talking about the need to harden soft targets or hire security guards for schools. 
Advertisement - story continues below
Neither solution appears to be working. New York has a red flag law, yet an 18-year-old was able to buy a firearm and kill 10 people, including an armed security guard in Buffalo — despite previously being referred for a psychiatric evaluation after making a threat to his school.
In Uvalde, the gunman, who was also 18-years-old legally bought his firearms and reportedly exchanged fire with a school guard before entering the school and slaughtering fourth-graders.
In the wake of 9/11, the U.S. did not just implement increased physical security measures at airports. Cockpit doors were fortified on aircraft, and passengers are now screened with watchlists. In the more than 20 years since there has not been a successful terrorist attack involving an aircraft in the U.S.
Some have called for raising the age to buy so-called assault weapons to 21. But Texas Gov. Greg Abbott (R) pushed back on this idea by noting that for decades, Texas did not have issues with school shootings.
Advertisement - story continues below
Well, the country does now.
Our world is infected with an evil that no legislation or man can stop forever. And wicked and disturbed humans will find other ways to kill and harm each other. That is true. But that doesn't mean we should just give up.
Perhaps we should raise the age limit – even though, yes, it is unfair to all the 18-year-olds who are not homicidal maniacs. This is a broken world and that's not going to stop every 18-year-old homicidal maniac from getting a gun, but it might just help.
But like 9/11, that should not be the only thing that's done.
Advertisement - story continues below
That could be paired with increasing physical security measures in schools, hiring well-trained security guards, hiring counselors for schools to help troubled students, and getting Big Tech to identify threatening posts so that law enforcement can investigate before it's too late.
How much longer are we going to let our children be slaughtered while our representatives refuse to actually come together with a willingness to compromise on some issues?
If they again decide to run to their corners and decide they will just cling to their solutions at the expense of anything that could help, they are only continuing the cycle of failing America's youth. Shame on them. 
Truth and Accuracy
We are committed to truth and accuracy in all of our journalism. Read our editorial standards.
Comment Down Below
Conversation