News
DeSantis Announces Proposal to Create Civilian Military Force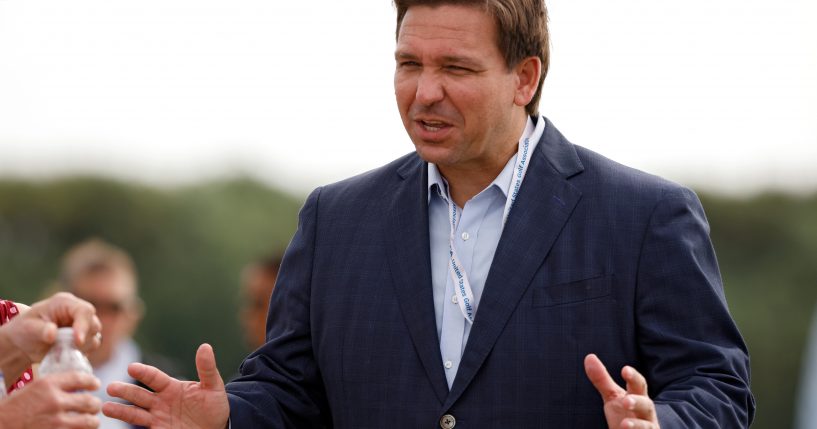 Florida Gov. Ron DeSantis (R) is looking to create a new civilian military force.
In a press release issued Thursday, DeSantis announced "more than $100 million in funding proposals to support Florida's National Guard and establish the Florida State Guard, a civilian volunteer force that will assist the National Guard in state-specific emergencies."
The budget proposal includes $3.5 million for the Florida State Guard. DeSantis said in a statement, "We are proud of our veterans and active-duty military members and proud of what our communities do to support them."
Advertisement - story continues below
He added, "Florida is one of the most veteran friendly states and I think there are very few places that you would rather be on duty than in the state of Florida. As a veteran, I really appreciate what everyone who wears the uniform does in our state and am excited about these proposals – they will go a long way and have a meaningful impact.
DeSantis explained the state is going to "continue our momentum of supporting our military, supporting our veterans and being good stewards of our military installations."
I am proposing more than $100 million for our National Guard, active-duty military and veterans, and to re-establish the Florida State Guard to assist our National Guard in state-specific emergencies.

I am committed to supporting our military and keeping our state safe.

— Ron DeSantis (@GovRonDeSantis) December 2, 2021
Adjutant General of Florida Major General James Eifert argued the governor's budget "is yet another example of his deep commitment to our Soldiers, Airmen, and residents of our state."
Advertisement - story continues below
He continued, "These investments will help us maintain our readiness, enabling us to continue to ensure the safety and security of our citizens. We simply cannot thank the governor enough for his ongoing leadership and dedication to our Guardsmen, and we look forward to proudly continuing our 456-year legacy of service to this great state."
According to the press release, the Florida State Guard would further support emergency response efforts, including in the case of a hurricane, national disasters and other emergencies.
Is this a good investment?
Additionally, the $3.5 million will "enable civilians to be trained in the best emergency response techniques." By establishing the civilian military force, Florida will become the 23rd state with a state guard recognized by the government.
Truth and Accuracy
We are committed to truth and accuracy in all of our journalism. Read our editorial standards.
Comment Down Below
Conversation