News
Details Shared on Paul Pelosi Attack: 'Not a Random Act'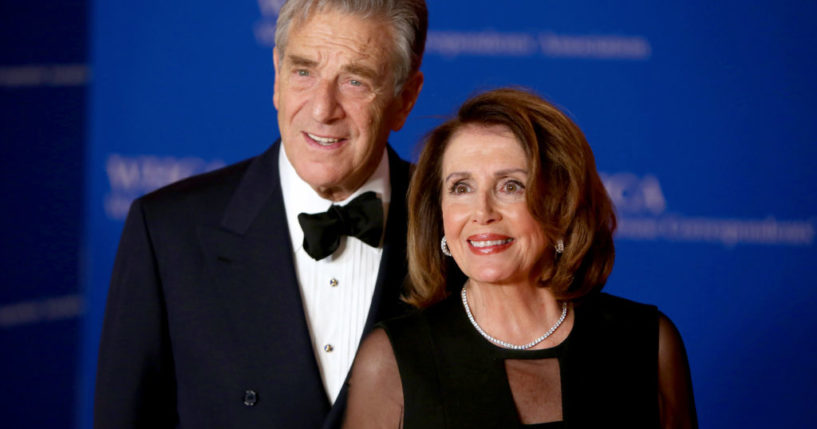 Details have emerged about the attack on House Speaker Nancy Pelosi's (D-Calif.) husband Paul Pelosi inside their San Francisco home.
The New York Times reported that Paul Pelosi, 82, was in a bathroom when he called 911 on Friday morning. The intruder broke in the back door yelling, "Where is Nancy." The House speaker was away in Washington, D.C., at the time of the attack.
Police officers were dispatched at 2:27 a.m, and when they arrived, they witnessed Paul Pelosi in a tussle with the intruder for control over a hammer.
Advertisement - story continues below
Paul Pelosi was then "violently attacked" in front of the officers once the intruder was able to retrieve the weapon, according to William Scott, San Francisco's chief of police.
Police were able to identify the attacker as 42-year-old David DePape. Scott said DePape would be charged with elder abuse, assault with a deadly weapon, burglary, attempted homicide, and "several other additional felonies." 
"This was not a random act. This was intentional," Scott said.
Authorities also believe that David DePape also may have planned on attacking more people, as CBS News reports, citing "law enforcement sources briefed on the investigation."
Advertisement - story continues below
Paul Pelosi was taken to the hospital for his injuries on Friday.
After the attack, Drew Hammill, spokesperson for Nancy Pelosi, issued a statement about the attack, writing at the time that the "motivation for the attack is under investigation" and that Paul Pelosi is "expected to make a full recovery."
On Saturday, Nancy Pelosi wrote a press release to her colleagues about the attack and informed them that her husband's condition "continues to improve."
Thank you for your prayers for my husband and our family. -NP pic.twitter.com/tL8h8W0eUM

— Nancy Pelosi (@TeamPelosi) October 30, 2022
The House speaker wrote: "Yesterday morning, a violent man broke into our family home, demanded to confront me and brutally attacked my husband Paul. Our children, our grandchildren and I are heartbroken and traumatized by the life-threatening attack on our Pop. We are grateful for the quick response of law enforcement and emergency services, and for the life-saving medical care he is receiving."
Advertisement - story continues below
Continuing, she wrote, "Please know that the outpouring of prayers and warm wishes from so many in the Congress is a comfort to our family and is helping Paul make progress with his recovery. His condition continues to improve."
Nancy Pelosi also quoted a Bible verse from the Book of Isaiah: "Do not fear, for I am with you. Do not be dismayed, for I am your God. I will strengthen you and help you. I will uphold you with my righteous right hand." 
"We thank you and pray for the continued safety and well-being of your family," she concluded.
Truth and Accuracy
We are committed to truth and accuracy in all of our journalism. Read our editorial standards.
Comment Down Below
Conversation