News
Doocy Asks Psaki Why Biden Was Shopping Maskless in a Store That Requires Masks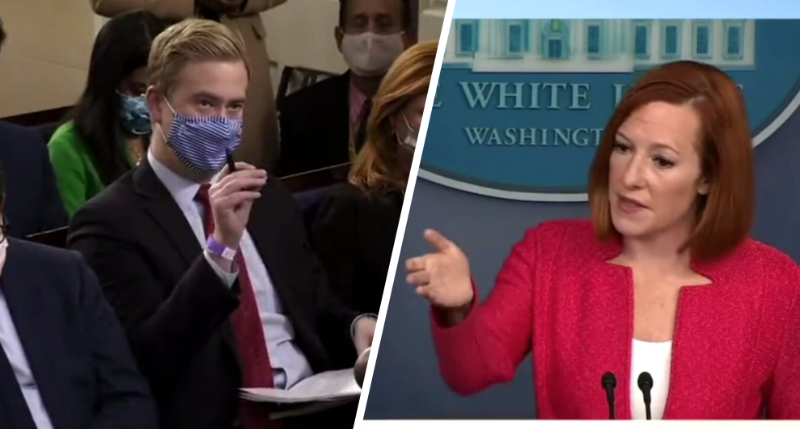 White House Press Secretary Jen Psaki is facing questions about a picture of President Joe Biden maskless in a store with a sign that states face coverings are required.
Fox News' Peter Doocy noted during a White House press briefing on Monday, "We saw the president shopping indoors on Saturday behind glass that says 'face covering required,' but his face was uncovered."
He asked, "Why?"
Advertisement - story continues below
Psaki replied, "The president is somebody who follows the recommendations and the advice of the CDC. I don't know what the circumstances were of that particular moment."
Doocy noted that there was a sign visible from the window that stated face coverings were required and "his face was uncovered."
"Well, again, Peter, our recommendation and advice continues to be for people to wear masks when they are required in establishments. I don't know what this establishment was. The president obviously follows the advice of his health and medical team," Psaki said.
Watch the video below:
Advertisement - story continues below
Doocy asks why Biden was shopping without a mask in a store where face coverings were required.

Psaki says she doesn't know "the circumstances of that particular moment" but says Biden "follows the recommendations and advice of the CDC." pic.twitter.com/dcpKEvtJUI

— Washington Free Beacon (@FreeBeacon) November 29, 2021
Finally, Doocy asked if there is "concern" that Americans will not follow Biden's advice to wear masks indoors.
"I think the American people and all of you see the president wearing a mask every time he comes out to an event, when he's sitting in meetings. And certainly, he will continue to model behavior he hopes the American people will follow not for his benefit but to save their own lives and the lives of their friends and neighbors," Psaki responded.
On Saturday, Biden, who is vaccinated against COVID-19 and received a booster shot, was seen in a store without a mask.
In case you missed it:
Advertisement - story continues below
BUSTED: Seemingly paying no heed to a sign stating "required face covering," Biden is caught shopping maskless while on vacation in Nantucket. pic.twitter.com/nxvN468Gb5

— The Post Millennial (@TPostMillennial) November 28, 2021
On the door of the store was a sign that indicated face coverings were required.
The Centers for Disease Control and Prevention (CDC) recommends, "Everyone 2 years of age or older who is not fully vaccinated should wear a mask in indoor public places."
"If you are fully vaccinated, to maximize protection from the Delta variant and prevent possibly spreading it to others, wear a mask indoors in public if you are in an area of substantial or high transmission," it adds.
Truth and Accuracy
We are committed to truth and accuracy in all of our journalism. Read our editorial standards.
Comment Down Below
Conversation