News
ExxonMobil Fires Back at Biden After 'Emergency Powers' Threat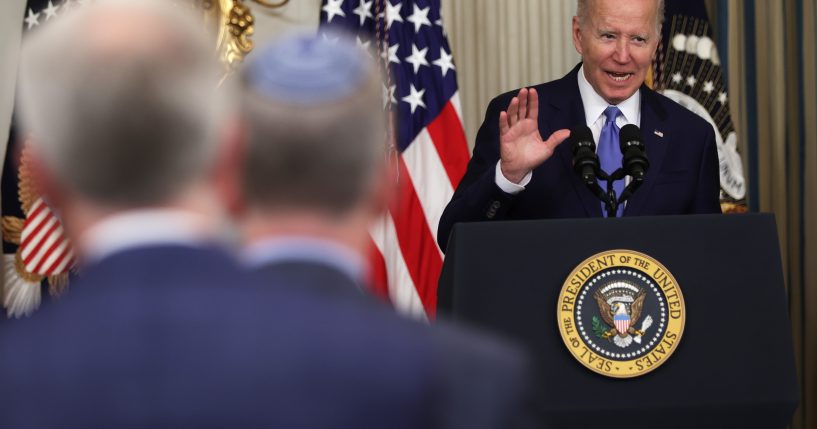 ExxonMobil pushed back against President Joe Biden after he penned a letter to the oil giants calling on them to take action to address gas prices.
The company said in a statement, "We have been in regular contact with the administration to update the President and his staff on how ExxonMobil has been investing more than any other company to develop U.S. oil and gas supplies."
It continues, "This includes investments in the U.S. of more than $50 billion over the past five years, resulting in an almost 50% increase in our U.S. production of oil during this period."
Advertisement - story continues below
According to the company, it has "invested double what we've earned over the past five years — $118 billion on new oil and gas supplies compared to net income of $55 billion."
Commenting on the refining capacity in the U.S. the company explained, "We've been investing through the downturn to increase refining capacity to process U.S. light crude by about 250,000 barrels per day – the equivalent of adding a new medium-sized refinery."
The company added, "We kept investing even during the pandemic, when we lost more than $20 billion and had to borrow more than $30 billion to maintain investment to increase capacity to be ready for post-pandemic demand."
Concluding the statement, the company suggested the government "can promote investment through clear and consistent policy that supports U.S. resource development, such as regular and predictable lease sales, as well as streamlined regulatory approval and support for infrastructure such as pipelines."
Advertisement - story continues below
Read the statement below:
Thank you Michael. "ExxonMobil statement regarding President Biden Letter to Oil Industry" https://t.co/s6rOUv4bQY | https://t.co/9ZUPZiDors

— Jon Najarian (@jonnajarian) June 16, 2022
In a letter earlier this week, Biden told the oil CEOs "their companies and others have an opportunity to take immediate actions to increase the supply of gasoline, diesel and other refined product you are producing."
He added, "My administration is prepared to use all reasonable and appropriate Federal Government tools and emergency authorities to increase refinery capacity and output in the near term, and to ensure that every region of this country is appropriately supplied."
Yahoo Finance noted gas prices remain above an average of $5 per gallon nationwide, citing AAA data, and energy experts do not believe there is any relief in sight.
Advertisement - story continues below
"We're likely to get record highs on U.S. regular gasoline this summer, when demand typically peaks," Stewart Glickman, energy equity analyst at CFRA Research, told the outlet.
He added, "Best guess, we peak around $5.50/gallon during the summer."
According to Glickman, if the nation is going to get gas prices to fall, "It's probably not going to be a supply-driven solution. The solution here, unfortunately, is probably a recession that kills demand and reduces scarcity of supply."
Truth and Accuracy
We are committed to truth and accuracy in all of our journalism. Read our editorial standards.
Comment Down Below
Conversation