News
Fauci: Vaccinated Americans Have 'No Reason Not to' Gather for the Holidays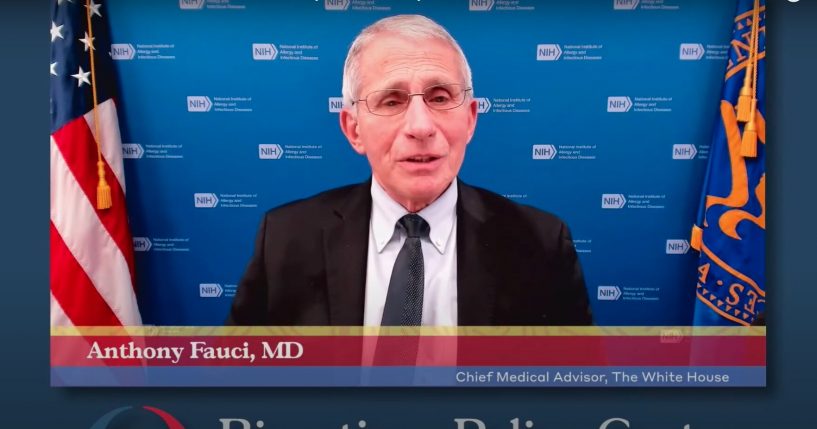 Dr. Anthony Fauci says Americans vaccinated against COVID-19 "can feel good" about gathering for Thanksgiving and Christmas dinners this year.
During a Bipartisan Policy Center event on Monday, Fauci was asked about what advice he has for people ahead of the holidays.
"If you get vaccinated, and your family's vaccinated, you can feel good about enjoying a typical Thanksgiving, Christmas with your family and close friends," he responded.
Advertisement - story continues below
The infectious disease expert noted that the U.S. is recording around 70,000 new cases of COVID-19 each and encouraged Americans to wear masks when they go to the store.
"But when you are with your family at home, goodness, enjoy it with your parents, your children, your grandparents. There's no reason not to do that," he added.
Watch the video below:
Advertisement - story continues below
Last year, when coronavirus vaccines were not widely available, health officials urged Americans to avoid family gatherings for the holidays.
Fauci faced criticism earlier this year as conservative commentators claimed he was trying to "cancel Christmas."
That controversy stemmed from an appearance on CBS' "Face The Nation" when he was asked if it is "too soon" to say if Americans can gather for Christmas.
"It's just too soon to tell," Fauci responded. "We've just got to concentrate on continuing to get those numbers down and not try to jump ahead by weeks or months and say what we're going to do at a particular time. Let's focus like a laser on continuing to get those cases down."
He added, "And we can do it by people getting vaccinated and also in the situation where boosters are appropriate to get people boosted because we know that they can help greatly in diminishing infection and diminishing advanced disease, the kinds of data that are now accumulating in real time."
Advertisement - story continues below
Fauci later tried to clarify his remarks by noting he was asked "what we can predict for this winter for like December and Christmas." He went on to note that he said it was too early to predict the course of the pandemic for the Holiday season.
He explained, "That was misinterpreted as my saying we can't spend Christmas with our families, which was absolutely not the case. I will be spending Christmas with my family. I encourage people, particularly the vaccinated people who are protected, to have a good, normal Christmas with your family."
Truth and Accuracy
We are committed to truth and accuracy in all of our journalism. Read our editorial standards.
Comment Down Below
Conversation