News
FBI Went Through Melania Trump's Closet During Raid: Report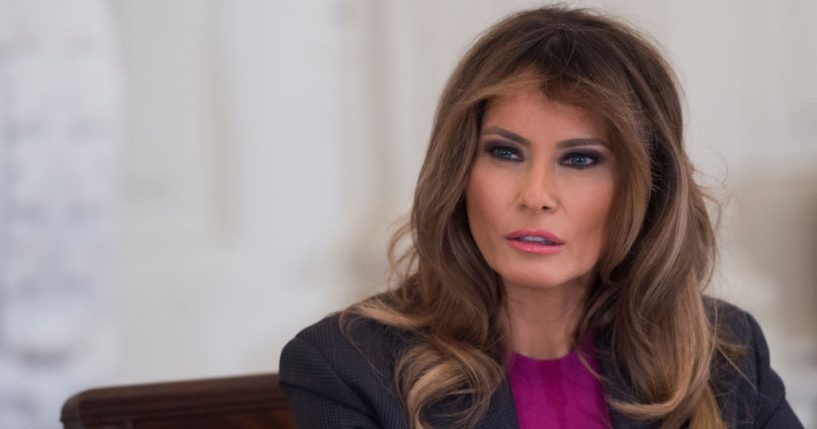 Agents reportedly went through former first lady Melania Trump's wardrobe during the Federal Bureau of Investigation's raid on Mar-a-Lago on Monday.
The New York Post reported that FBI agents entered former President Donald Trump's property at Mar-a-Lago earlier this week with a search warrant focused on presidential records and classified information.
Agents searched the 3,000 square foot private residence of the Trump family, as well as a separate office, safe, and a locked basement storage room.
Advertisement - story continues below
.@mirandadevine gives an update on what happened during the raid on Mar-a-Lago, including how the FBI reportedly scoured through Melania Trump's wardrobe. pic.twitter.com/mXfio4ivXJ

— The Post Millennial (@TPostMillennial) August 10, 2022
It is believed that access to the private club was granted by the US Secret Service (USSS) agents stationed at the gates.
Attorneys for the former president were reportedly caught off guard, but the New York Post cited a retired USSS agent who said an FBI warrant would not have been served without notifying the agency first.
"USSS legal counsel probably would've directed [them] to see copy of [the] warrant and then step back," the former agent said according to the Post.
Advertisement - story continues below
Agents reportedly searched every room, including the Versailles Master Bedroom, renovated by Melania Trump two years ago.
The law enforcement officers went through White House materials, all of which were targets of the raid by over 30 plain clothes FBI agents from the Washington Field Office and the Southern District of Florida.
Agents spent nine hours total searching and inspecting the former president's home and office eventually confiscating 15 cardboard boxes, according to the New York Post.
Three Department of Justice attorneys accompanied the FBI agents and the New York Post cited an eyewitness that described their attitudes as "arrogant.
The attorneys reportedly told representatives of the former president that "We have full access to everything. We can go everywhere."
Advertisement - story continues below
Even though it was 91 degrees outside on Monday, the federal government forbade Trump's attorneys from seeking cover in the cool lobby or participating in any way in the search.
The former president's staff members were forced to wait outside in the sweltering sun close to a parking lot, according to multiple reports.
Truth and Accuracy
We are committed to truth and accuracy in all of our journalism. Read our editorial standards.
Comment Down Below
Conversation