News
Fetterman's Wife Pushes Back Against the Suggestion That She Is a 'Puppeteer'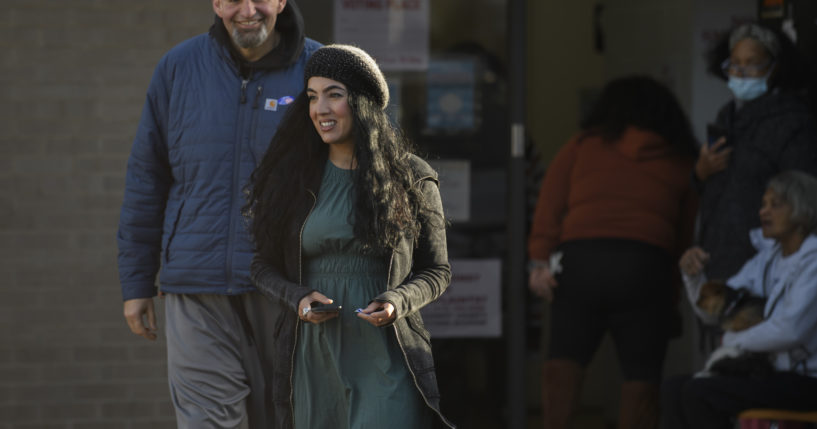 Gisele Fetterman, the wife of Sen.-elect John Fetterman (D-PA), is speaking out against the suggestion that she is a "puppeteer."
While speaking with the New Republic, Gisele Fetterman commented on the criticism she has personally received from Republicans.
"The right-wing hates women. They especially hate strong women, and I think that's what you're seeing," she said.
Advertisement - story continues below
Gisele Fetterman added, "The fact that a spouse of a senator-elect has been attacked nonstop for the past 24 hours and everyone's OK with it and everyone thinks it's normal.… It's not normal."
According to her, since entering the Capitol, her "inbox has been completely filled with threats and horrible things. And that's because I've been a non-top loop on Fox News."
She explained, "Hopefully it's not like this forever … and hopefully it's not like this for the next young Latina or person of color or spouse who enters this space."
The outlet explained despite "caricatures and conspiracies painting her as a nefarious puppeteer seeking to replace her disabled husband, Gisele didn't waffle when asked if she'd seek office."
Advertisement - story continues below
She told the New Republic, "Never," adding, "It's not for me. It's a very cruel world, and I am not cruel. I don't ever wanna become cruel. I'm sensitive. I want people to like me. It hurts me when people are mean."
When asked about a role for herself in her husband's capacity, Gisele Fetterman laughed.
"I don't think I'll be in his office at all," she said. "I want to work closely with the spouses and get to know them, but I'm going to be in Pittsburgh. John will be in D.C. My work and my kids and my life is in Pittsburgh."
Just last week, Gisele Fetterman sparked criticism on Twitter after posting a photo of herself and her husband outside of his office.
It appeared as if John Fetterman was partially cropped out of the photo.
Advertisement - story continues below
The actual Senator-elect is halfway cut out of the photo!!! She wanted this so badly for herself lol. I hope subjecting her husband and her marriage to this was worth her 15 minutes. pic.twitter.com/PWbgqsgGDe

— Tiana Lowe (@TianaTheFirst) November 15, 2022
Another photo posted by Gisele Fetterman appeared to show the top of his head cropped out.
I've never seen passive aggressive/contemptuous photo crops like this before. It's wild. pic.twitter.com/VdT9nvVkVW

— David Reaboi, Late Republic Nonsense (@davereaboi) November 15, 2022
Still, Gisele Fetterman has received support from others.
Advertisement - story continues below
President Joe Biden previously declared she would be a "great lady in the senate."
John Fetterman defeated his Republican opponent and Trump-endorsed celebrity doctor Mehmet Oz.
Truth and Accuracy
We are committed to truth and accuracy in all of our journalism. Read our editorial standards.
Comment Down Below
Conversation