News
Trump's HHS Secretary Says Ex-POTUS Could Have Gone 1 Step Further With His Covid Vaccination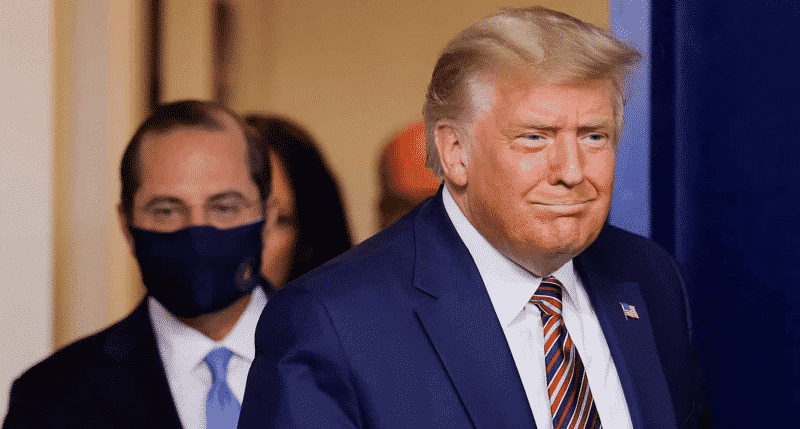 Former Health and Human Services (HHS) Secretary Alex Azar acknowledged former President Donald Trump got the COVID-19 vaccine but suggested he could have gone one step further.
In an op-ed published by The New York Times, titled, "I Was the Architect of Operation Warp Speed. I Have a Message for All Americans," Azar argued Trump could have gotten vaccinated on television to show Americans they can trust the science.
"I'm glad former President Trump got vaccinated, but it would have been even better for him to have done so on national television so that his supporters could see how much trust and confidence he has in what is arguably one of his greatest accomplishments," Azar wrote.
Advertisement - story continues below
Before leaving the White House in January, the former president received the vaccine along with his wife, former First Lady Melania Trump.
He encouraged people to get the vaccine for the first time at the CPAC political conference in Florida. Trump said, "Everyone should go get your shot."
Azar called on other Republican leaders to urge Americans to get vaccinated, saying, "The vaccines could be a victory lap for the Republican Party, and I call upon all party leaders and conservatives to double down on encouraging vaccination."
He continued, "Party leaders like Gov. Ron DeSantis of Florida are making clear that vaccines save lives. Sean Hannity of Fox News is now telling viewers to 'please take Covid seriously.' Representative Steve Scalise of Louisiana shared a photo of himself recently getting vaccinated. I urge more of this from trusted voices on the right."
Advertisement - story continues below
The former Health and Human Services secretary urged the Biden administration to "find voices that will be trusted in conservative communities to explain the data and integrity of the vaccine programs."
Azar did not hold back on suggesting the Biden administration should credit the Trump administration for "expediting these vaccines."
Would it have been better for Trump to get the vaccine on TV?
He added, "I'm not naïve about the partisan issues and the mistrust between parties at play — but a measure of political graciousness could go a long way to depoliticize the issue."
Truth and Accuracy
We are committed to truth and accuracy in all of our journalism. Read our editorial standards.
Conversation